Business Management | Resources
How To Use Google Search Console For Search Engine Optimisation (for Small Businesses)
Oct 31, 2021 | Sabina M Abul
Here is a guide on how to use Google Search Console for Search Engine Optimisation
In the past, businesses used different methods to advertise and promote their products and services, which included leaflets, newspaper adverts, word of mouth and other methods. Although some of these techniques are still used today, marketing your business online is becoming more important as more people prefer to shop online.
This way of promoting your products and services is known as Digital Marketing.

Now, there are billions of online websites out there and your aim is to make sure your business's website shows up above your competitors' websites which increases the probability of people clicking on your website first.

You also need to ensure your website shows up when people type in specific words that are related to your business, known as keywords.

There are several techniques and strategies that can be used in order to accomplish these goals and the process of improving your website using these techniques is called Search Engine Optimisation (SEO).

One tool that can be used is Google Search Console. This is a great web service that includes numerous features and can be used by business owners, SEO specialists, marketers or also site administrators.

What's great is also that it is free to use and it also contains the most extensive and up to date dataset available which makes it perfect for Digital Marketing purposes.

But how should you use it?

Here are 4 ways you can use Google Search Console for SEO:
Keyword Research
As mentioned in our blog where we talked about different ways of carrying out keyword research, Google Search Console is a great tool you can use for keyword search.
To do this, go to the Performance section, make sure you are looking at 3 months data and ensure that you have clicked on the "Average CTR" and "Average Position" boxes as shown below:

The 'Average clickthrough rate (CTR)" shows the percentage of impressions that resulted in a click, impressions being the number of times someone saw the link to your website on Google search results page.
The "Average position" is the average position of your site on the search results page.

What we want to look at is keywords that have a clickthrough rate (CTR) of 1% or less and a high number of impressions.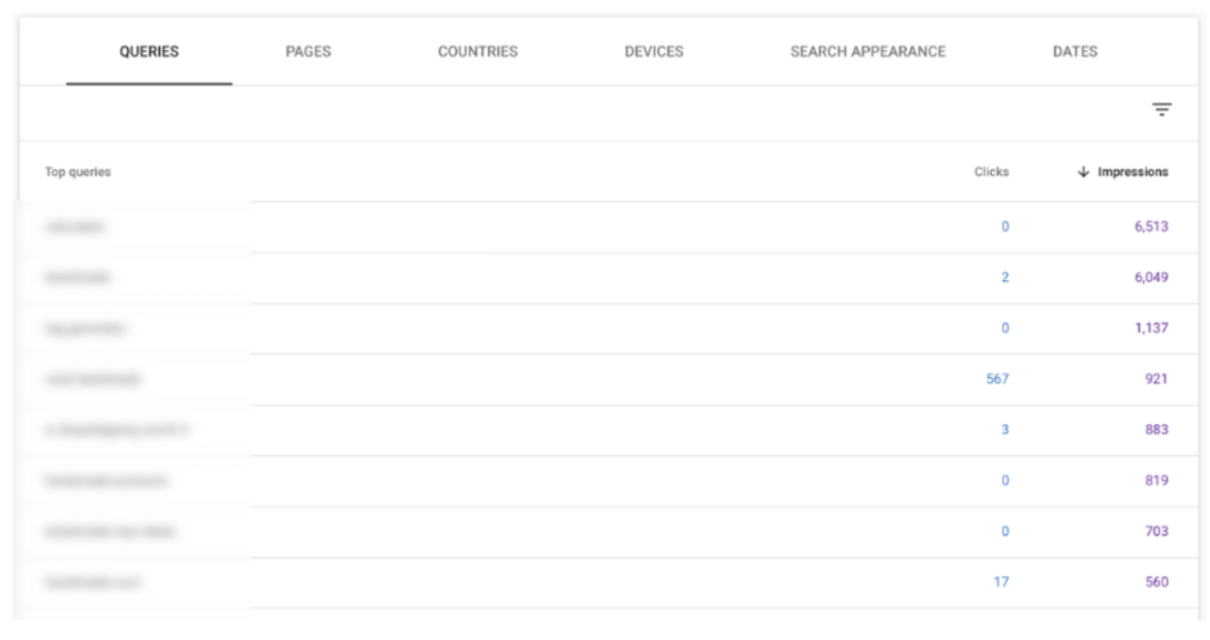 This is because these are the keywords that some pages on our website rank for (i.e. keywords that when searched on Google, make those pages show up on the search results page), however they don't get much traffic.
After you have identified such keywords, click on them and then click on the "pages" tab to see what pages are ranking for those keywords.

For instance, the following word, "handmade products" has a CTR of 0 and has a high number of impressions, so you'd click on it and you will see the data related to that keyword only as shown below:

Then you'd click on the pages tab and you will find the pages that rank for the keyword as seen below:
You could then either create new content on that keyword if there isn't any or improve the existing content to optimise for the keyword.

Improving the ranking position for keywords that are not performing well
Another way you can use Google Search Console (GSC) for optimisation is by improving the position of keywords that aren't currently doing well by increasing the clickthrough rate.
Now, how can you know whether a keyword is performing well or not?

This is quite simple: if a page is not ranking in position 1 and 2 in the Google search results page for that specific keyword, then you will know that the keyword is not performing to its potential.

This can highly impact the clickthrough rate as pages that are not in positions 1 and 2 get way less traffic.

To find underperforming keywords on GSC, go to the Performance section and, again, make sure you click on the "Average CTR" and "Average Position" boxes.

You should then scroll down to the table and set the filter to "position" as shown here: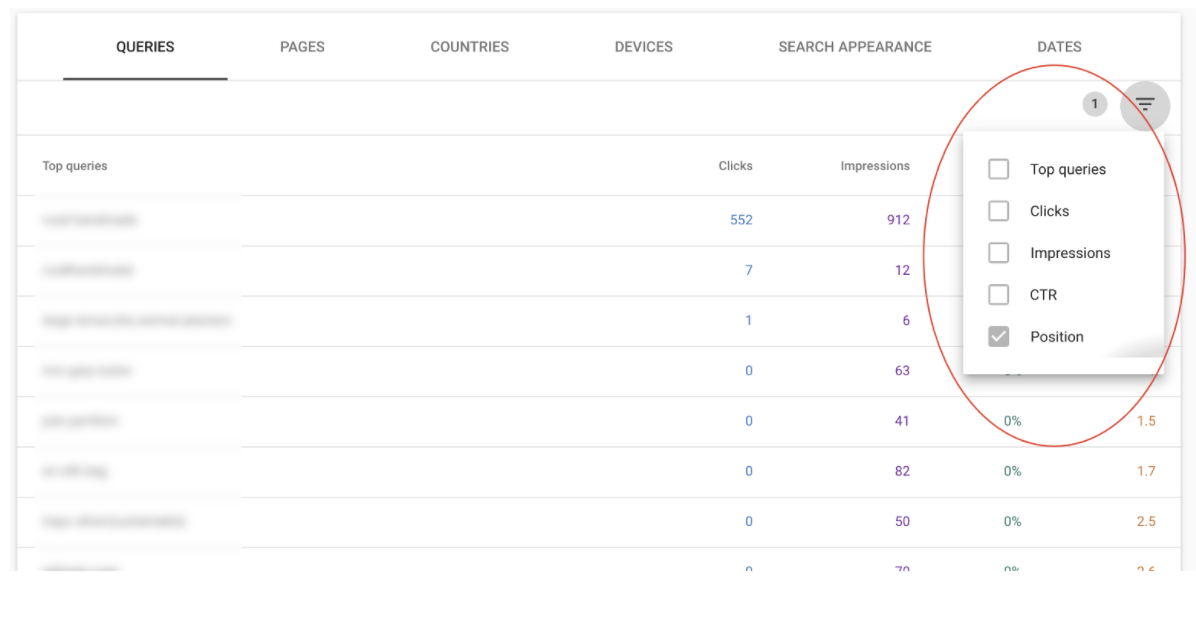 Then also filter to show only keywords that rank in positions of less than 8.1 as normally the first search results page includes about 8 pages, and it is easier to move to the top 2 ranking positions from positions of less than 8.
Thus, we only want to see keywords that are ranking in positions smaller than or equal to 8 and set the filter to "smaller than 8.1" and also order the queries in descending order for position just like this:

Then you should try and find keywords that have a high impression rate in the list, then click on them and go to the pages tab to see the pages that are ranking for the keyword and try to optimise them by adding internal links, external links or do other on-page optimization work.

Thus, working on keywords to make them rank higher is a strategy that you can use for SEO.

If you can do this with one or two keywords every week, then eventually in a few months you should be able to see a difference in the ranking position of the keywords you worked on.

Working on keywords that are ranking high but have a low clickthrough rate
We have just seen that one way to improve SEO on Google Search Console is by working on keywords that do not rank in the top 2 positions on the search results page.
Another way to work on optimisation on GSC is by analysing keywords that rank high but don't reach the clickthrough rate level that a keyword ranking in those positions should have.

To do this, again set the filter to "position" and this time filter to "smaller than 3" so that you get keywords that are ranking in positions lower than 3.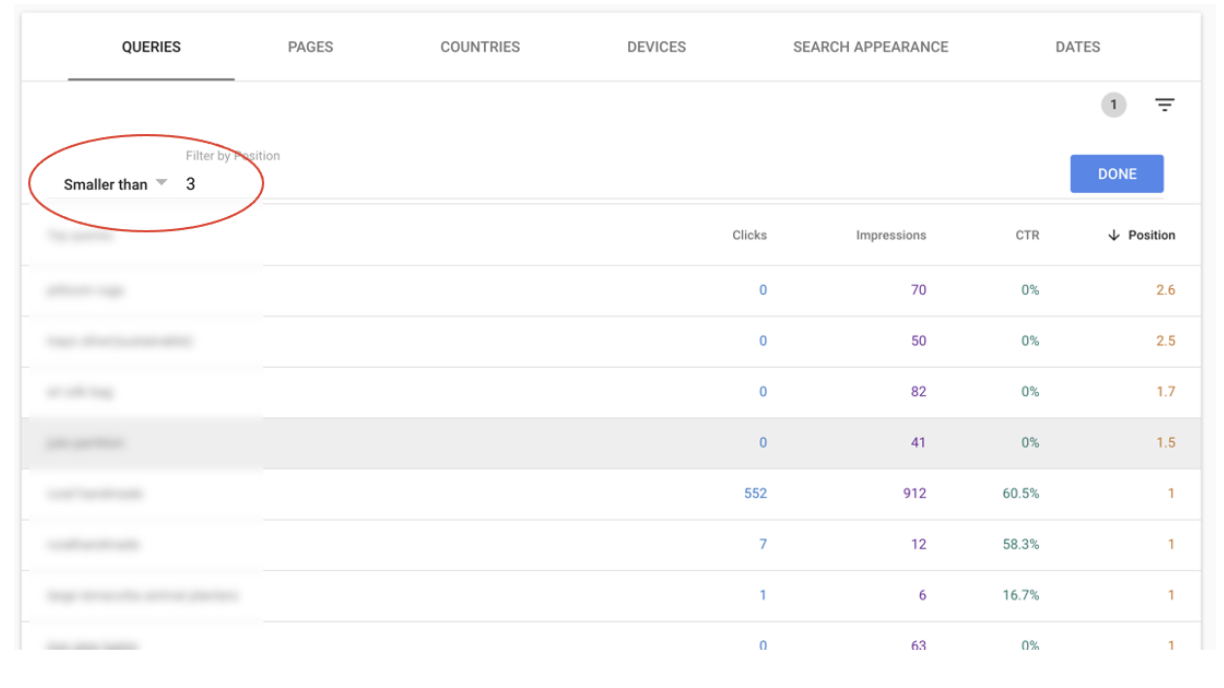 Then, sort the table by CTR in ascending order.

On average, the clickthrough rates of keywords ranking in the top 3 positions are between 10%-30%.

Thus, after sorting the table, find the keywords that have really low clickthrough rates, then search for the keyword on Google or other search engines to see why we are not getting high traffic despite ranking in the top.

Normally, some of the causes are featured snippets of other pages ranking at the top of the search results pages or snippets of videos or other pages ranking above us.

By finding the cause you can then go on and optimise your page better. For instance, you could try and optimize it for it to appear as a featured snippet or even make a video on that keyword.

Add internal links where possible
A lot of people forget how important internal links are for SEO.
They in fact are a key way to get your pages to rank higher as they help crawlers to index your pages better.

A page that does not have many internal links may not be able to rank or get much traffic.

Now, how do we find pages with a low number of internal links?

This is where Google Search Console will come in handy again.

Once you are on the home page of GSC, scroll down through the bar on the left side and click on the "Links" section as seen here: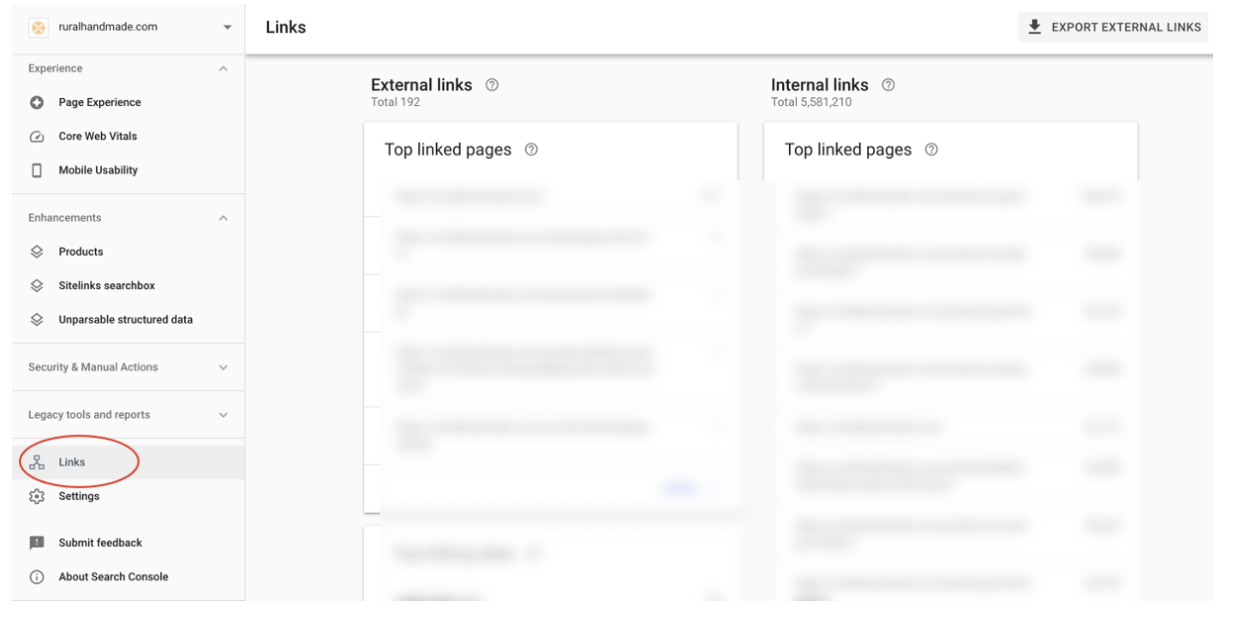 There, you will find a summary of internal links and external links reports.
Since we are interested on internal links right now, click on "More" under internal links. Then sort the results by pages with the lowest number of internal links.

You should then start working on these pages by adding more internal links pointing at them.

The only problem with GSC is that it won't show you pages that have zero internal links.

However, starting by looking at the ones that are listed on GSC is still better than not working on anything.

Again, by working on a few websites every week, in a few months, you should be able to see a difference in the traffic to your website as crawlers will be able to index the pages better.

Conclusion
In conclusion, these are the ways you can use Google Search Console for SEO.

However, you need to keep in mind that patience is key whilst you are using these techniques and as long as you are slowly starting to work on these every week constantly, your efforts will definitely pay off in the long term!

We hope this blog will help you succeed and get those top spots in the search results page!

In the meantime, why don't you check out this useful blog on How to find trending products to sell on your online store?

Alternatively, if you have any questions on SEO or if you want to know more about what we do, you can always contact us!

Recommended
Business Management | Resources
The handmade market is a developing one that offers entrepreneurs special chances. This sector includes a wide range of goods, including artisanal foods and drinks, handcrafted jewelry, and home furnishings. Social networking and the growth of e-commerce platforms have made it simpler than ever for handcrafted company owners to expand their customer bases. This article will examine the development of the handmade sector, the benefits and difficulties of launching a business in the sector, the special prospects available there, and successful business tactics.