Business Management | Resources
How To Do Keyword Research For Optimizing Digital Marketing (for Small Businesses)
Sep 21, 2021 | Sabina M Abul
Researching keywords for content marketing is no easy task. Here are top methods you can use to conduct your own keyword search for content!
Keyword research is an essential step when it comes to content writing.
But how can you find the right keywords? And what keywords should you consider?
Do not worry, whether you have run out of content and searching for the next keyword or you have just started with content writing, we are here to help you!
Here are the top 6 methods you can use to do Keyword Research:
1. Think about keywords that relate to your business
An easy way to find keywords is to think about topics that people search for that are related to your business and your audience would find interesting.
When doing this ask yourself the following questions:
• What words do I want my website to rank for?
• What keywords are my competitors ranking for?
• What is a current trending topic in the industry?
• What keywords lead people to finding our website?
• What are some of the topics your target audience is currently finding interesting?
By answering some of these questions you will be able to find a few keywords to work on for your content.
2. Use Wikipedia's content for keyword research
When you search for a broad topic on Wikipedia, on the table of content you will find related searches that can be used as your keyword.
For instance, when you search for "clothing", this is the table of content that shows up: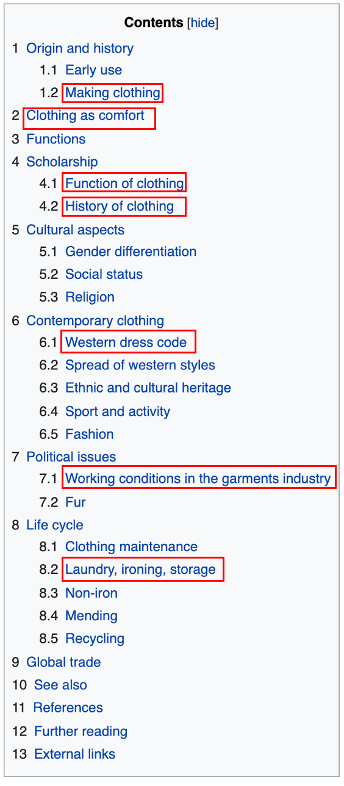 As you can see, there are a lot of these subthemes that you can use as keywords.
Hence, if you have a broad topic in mind, this is one way you can find long term, specific keywords for your content related to that topic!
3. Use Google's Search Results page
Another way to find long tail keywords if you have a broad topic in mind is by using Google's search results page, specifically the Related Searches section at the bottom of the page.
Say that the topic you have in mind is "furniture".
Then you would search for it on Google and go to the end of the search results page where you will find the related keywords.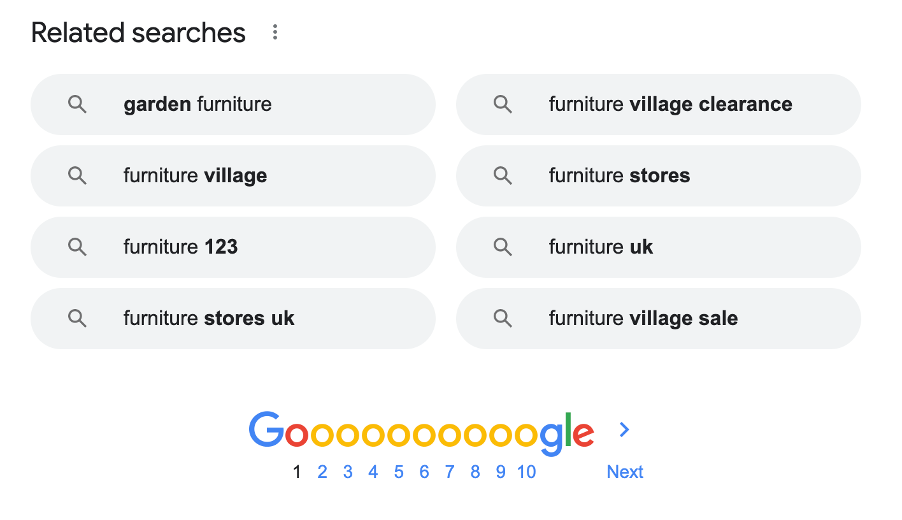 Here you will find related searches recommended by Google, indicating that these are popular, and you should hence consider them.

4. Take advantage of suggestions given by Google and YouTube:

A further way of finding long tail keywords for a broad topic is by using suggestions given by Google.

To do this, type the topic on the search bar and you will see some terms.

For instance, say that the term you have in mind is "sustainable homeware". You would type it on Google, and you will find the following terms: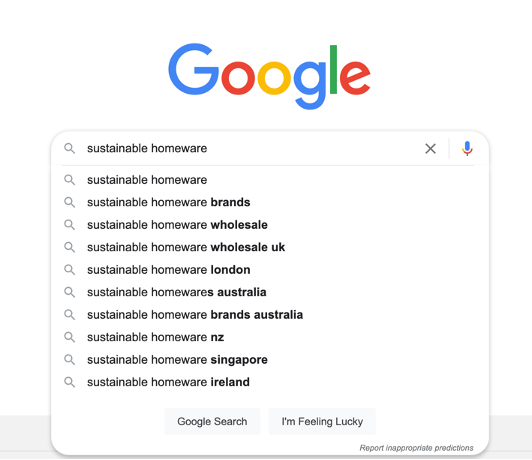 These are great ones to choose from as they are popular searches!
Something similar can be done on YouTube as seen in the image below with the word "furniture":
5. Use Google's Search Console
One more Google tool you can use is Google Search Console.
To do this, login to your Google Search Console account.
Then go to the Performance section where you will find a report showing you the keywords that led people to your website in the last three months.
You can, of course, change the date range to see data from other months.
To find keywords to write content on, sort the list of queries by impression and find the words that have a high number of impressions but a low number of clicks.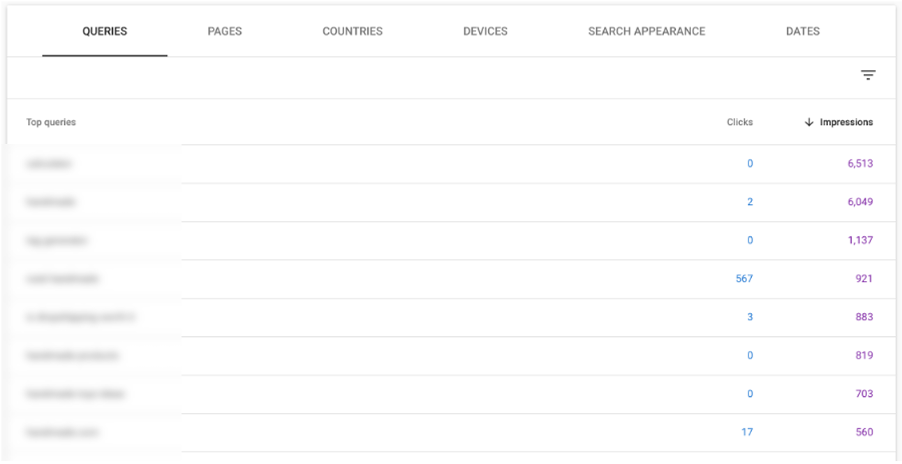 These are keywords that some pages on our website are already ranking for on Google, however they do not lead to many clicks.
Before writing fresh content on the keywords that you select, you should click on it and look at the pages that are ranking for it.
This is to check that you don't already have content around that topic. If you already have content, you should just adjust the page a little to optimize for that keyword.
If you don't have content on it, then you are good to go and you can write a fresh piece of content on it!
6. Use Answer the Public
A very useful website is Answer The Public.
All you need to do is type in the topic you have in mind and the tool will show you questions that people tend to search for about that specific topic.
This is a great way of finding keywords for content writing as the main aim of writing content is to resolve a conflict or give answers to questions our target audience may have and this website shows the popular queries related to the topics you type in!
For instance, here I typed in "handmade" and this is what came up:
As you can see there are several questions related to handmade that people search for.
Pick something that is more relevant to your industry and start writing!
Conclusion
In conclusion, there are several methods you can use to find keywords.
It can be difficult to find the right keywords for your content and it is easy to run out of ideas. However, using these techniques we discussed here will definitely lead you to the right direction and get you going with content writing.
After you found your keyword, you can start writing and add more content to your website!
We hope this small guide helped you!
Are you alternatively struggling with finding the right products to sell on your website? If so, you should check out this blog on methods you can use to identify trending products to sell on your store!
Recommended
Business Management | Resources
Are you involved in the import-export business? If so, we've got a valuable tool for you. we have created a comprehensive Google Sheets tool that delves deep into the essential certifications and compliance procedures necessary for trading with three significant regions: India, Vietnam, Japan, and the European Union. By understanding and adhering to these compliance obligations, your business can streamline import and export processes, mitigate risks, and ensure smooth transactions with these key markets.