Business Management | Resources
How To Find Trending Products To Sell On Your Online Store (in 2021)
Sep 14, 2021 | Sabina M Abul
Identifying the right products to sell on your online store can be difficult as consumers' behaviour keep changing. Due to technology advancing really fast, however, there are different ways you can use to do this which I will show you in this blog. Get ready to take some notes!
The Covid-19 pandemic has increased the popularity and use of online shopping.

As a result, global e-commerce sales soared to $26.7 trillion!
A lot of people are using this opportunity to either open a new online store or just shifting from brick and mortar to ecommerce selling.
But how do you identify what consumers are searching for and how do you find trending products to sell on your online business?
Don't worry, we've got you covered!
Here are 6 effective ways you can use to find trending products to sell on your online shop:
1. Use Google Trends to see whether a product is trending




If

you already have a product idea but you are not sure about whether or not it is popular, one easy way to find out is by using Google Trends.



Google Trends is a website that shows in real time the trends of search requests made on Google and their popularity over time.
All you have to do is type in the product name and you will find the trend for that specific product.
If the trend is going upwards, it is a good sign and it shows that the product is having a lot of searches and is hence increasingly becoming popular.
You can see an example in the below picture, where we see door mats slowly increasing in popularity:
However, you need to be careful as a sudden spike could be a fad, and if it is a fad, it is only a short-term peak that will then decline and by the time you have procured the products, the trend might start declining.
Here's an example of a fad, where we see Fidget Spinners suddenly increasing in popularity but then we see a sharp fall in the trend:
This is why you need to check whether the increase is sudden and rapid or stable and slow. If it is like the latter, it is a good sign as it shows that the trend will stay on for longer.
Otherwise, if it is like the former, there is a high chance of it being a fad.
If, however, the trend is going downwards for the product you are interested in, then it isn't a good sign, and you might not want to consider the product.
We can see this happening for waterbeds: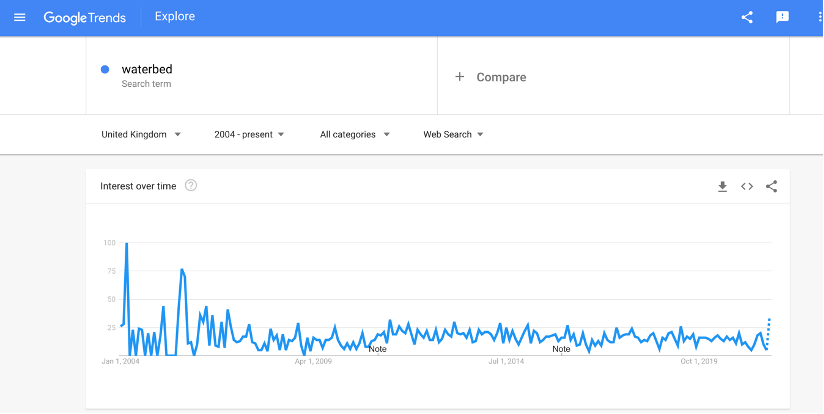 It is best to go for a product with a stable trend and check it for the period 2004-present to get a clearer idea of the trend over time.
With Google Trends you can also search for new products to sell if you are already specialised in a specific niche, and you are looking to increase the range of products you are selling.
For instance, if your business is focused on selling wooden tables and you would like to sell other related products, you have to type "wooden table" into Google Trends and scroll down to the "Related Topics" section.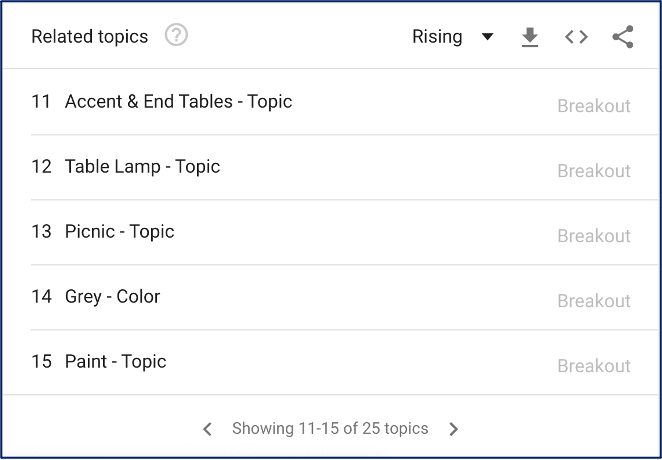 There you will find a list of topics related to your search which might include some products you can consider, and, in our example, you could consider table lamps that could go with the wooden tables that you are already selling.
You can then click on the relevant product and see the trend for it and decide whether it is worth considering.
Overall, Google Trends is an easy tool you could consider using to find trending products you can sell!
2. Search on YouTube to see what products are trending


Another tool you can use is YouTube.
You can just type "Popular/trending products of 2021" and you will find latest videos that mention all the current popular products as seen below.
Otherwise, if you already know your niche you can type it and search videos for what is specifically trending within that market.
For instance, if you sell wardrobes and you want to find the current trending designs, you can type "Popular/best wardrobe designs in 2021" and you will find the following results showing them: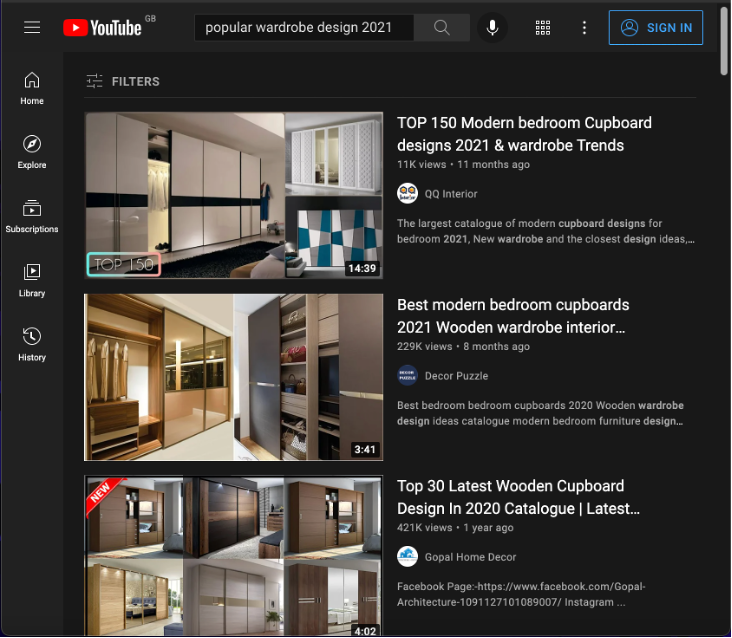 Another way you can find trending items is by looking at unboxing videos or reviews.
Just type "Unboxing" or just "Unboxing + (product name)" and you will find some popular products that you can consider.
When searching on YouTube, check the number of views, likes and comments to see what people say and think and to see whether the product is really popular.
In addition, remember to filter your search results to "This month" or "This Year" to see the latest videos and trends as seen below!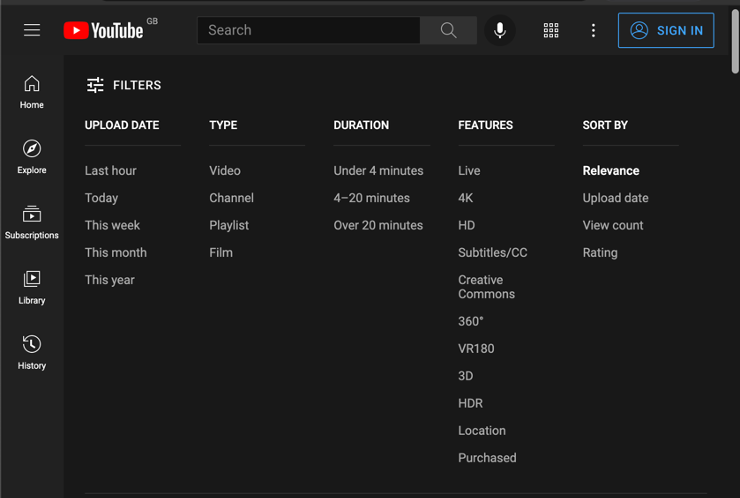 YouTube is, thus, a great website you can use for your niche search!
3. Use Shopify's trending product list
Shopify has a blog-like webpage where it lists all the popular products.
The list shown on the page is always updated and it is very reliable as it is fully based on actual data they have.
Compared to the two previous methods which showed what is trending based on mere searches, this method shows you what products people are actually purchasing, and it is fully backed up by data!
4. Check out what is trending on product marketplaces
Just like Shopify, you could use other online product marketplaces to find what is actually selling and current trends.
Here are a few product marketplaces you can look into:
Amazon
There are different ways you can use to discover new products that are trending on Amazon.
One way you can do it is by using search suggestions.
For instance, if you sell rugs, type "rugs" and Amazon will show you related popular searches that people are currently searching for as you can see in the image below:
Alternatively, if you don't specialise in a specific product or if you are looking for a new product, you can use the "Amazon Movers and Shakers" section or the "Amazon Best Sellers" section.
The first one shows the products that have gained the highest sales ranks compared to the past 24 hours. This is updated every hour.
The second one shows the most popular items on Amazon. This is updated every day (every 24 hours).
eBay

Like Amazon, eBay is another online marketplace that you can use.
On this site you could use the eBay Watch Count tool to see how many times people have seen a specific product.
This will show the products that are getting the most attention from people.
Alternatively, you could use the eBay Trending section which shows the items that are trending.
These are two methods you can use on eBay to find trending products.
AliExpress
Similarly, you can look at the Hot Products section on AliExpress's website.
You will find a list of products that are trending sorted by category.
Etsy
A great product marketplace you can use is Etsy.
A good thing about searching here is that on Etsy you will find mostly handmade products and hence sometimes items that trend on this space end up becoming mass produced and start gaining global popularity.
This is why it is always good to look out for trending products on Etsy by looking at the Most Popular Item section.
Alternatively, an easy way to see what market niches are trending at the moment, you can just look at the section headers on the home page.
As you can see below, on the top left hand corner we see a section called "Halloween Shop" due to Halloween approaching and searches and purchases related to it increasing.
Therefore, Etsy is a great website you can use to find what is about to trend worldwide.
5. Search on B2B Marketplaces
We have talked about marketplaces directed at consumers, however, you can also look at Business-to-Business (B2B) marketplaces or suppliers.
Since a lot of these marketplaces have numerous suppliers, you are going to find a wide range of products from different categories and you will be able to see what is trending.
Here are a few of them you can look at:
Rural Handmade
A great B2B marketplace you can start with is Rural Handmade.
On this space you will only find handmade, sustainable and eco-friendly products. This is great given that consumers are now increasingly demanding for sustainable products that do not harm the environment.
To find the trending items, you will only have to scroll down in the home page, and you will find them on the "Trending" section as seen here:
You could also check the other sections named "Latest Arrivals" and "New Arrivals". This is because items in those section will reflect the current trends of designs.

Alibaba
You can also use Alibaba's website for your product search.
You will have to go to the "Top-Selling Trending Hot Products" and you will find the most popular current items:
Other supplier directories you can use in a similar way are the following:
- Doba
- SaleHoo
- TradeKey

All you have to do is look at their "Trending" and "Popular" sections or even home page to see what products are currently selling the most.
6. Look at conversations happening on Social Media platforms
Another great way of spotting what is trending is to look on Social Media platforms and see what other people are talking about.
Here are a few Social Media sites you can look at:
Reddit
On Reddit, there are groups named subreddits where you can see people talking about a range of topics including current popular items.
You can join these groups to see what people are talking about and how they are reviewing those products and use all the information to create your own product.
Pinterest
Pinterest is increasingly becoming popular and is a great site to use for product research!
This is because a lot of people use it to find inspiration for the type of products they want as there are a lot images of item designs that people are able to save.
You have to click on the search button and you will be able to see what is popular on Pinterest.
You can scroll down to see different categories: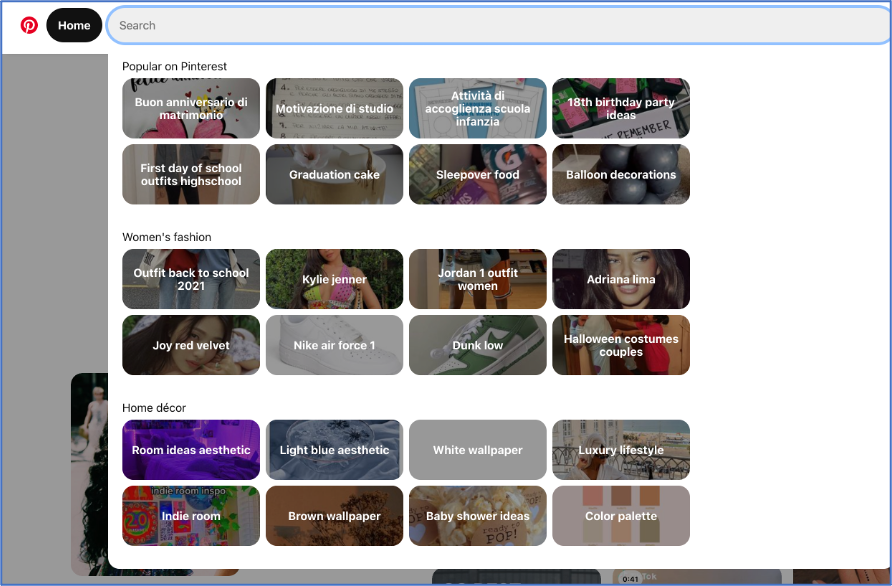 Instagram
You can also quickly check on Instagram what is trending by just writing different hashtags according to what products you are searching for.
For instance, if you are looking for furniture designs, you can just type it on the search section and you will find the latest images and videos that have been uploaded which reflect the most popular designs:
Conclusion
Overall, there are a lot of different ways you can go on about product research for your online store.
You do not have to stick with one method and in fact we recommend using all when doing your research as the more you research the more information you will be able to gather up!
Product research is no easy task, however, browsing through different websites will definitely get you inspired and give you some unique ideas to use for your own business!
Once you have found a product and you have a design in mind, you can send your idea to us and we will commission your design idea into an actual product for you to be ready to then just sell!
You can contact us, to find out more about what we do or to just simply let us know about your thoughts on this blog!
Recommended
Community | People
Small business owners often find themselves faced with a multitude of tasks and responsibilities, from managing finances and tracking inventory to analyzing data and creating reports. In this digital age, spreadsheet software has become an indispensable tool for businesses of all sizes. When it comes to spreadsheets, two names stand out: Google Sheets and Microsoft Excel. Both offer powerful features and capabilities, but which one is the best choice for small business owners? In this blog post, we will explore the strengths and weaknesses of Google Sheets and Microsoft Excel to help you make an informed decision that suits the unique needs of your small business. Whether you're a solopreneur, a startup founder, or a small business owner looking to streamline your operations, this comparison will provide valuable insights to assist you in choosing the right spreadsheet software.