Community | People
Lace And Crochet Industry Of India: Rurally Made, Globally Loved
Aug 20, 2020 | Sanchit Rai
Crochet and Lace products: a hobby, and a business! Are you a B2B wholesaler, or a retailer, or a local boutique owner or perhaps an Amazon or Etsy seller, or an independent business brand in the space of home furnishing and fashion accessory? Or are you just a conscious consumer. Whichever you are, read on to discover how a new sourcing destination in India can fit right into modern business needs and ethics- profitability, social responsibility, sustainability, poverty alleviation, and women empowerment.


Narsapuram (Narsapur), the largest cluster of lace and crochet industry in India
Located in the west Godavari district of the Indian State of Andhra Pradesh, along the back waters of the Bay of Bengal, lush green with palm, coconut trees and paddy fields for miles across, this part of the world, at first glance looks just like another quintessential south Indian coastal town. However, one would be hard pressed to find a bigger and more skillful cluster of artisans than one located in and around Narsapur.
Rurally Made, Globally Sold
On 20th February 2020, after attending a one day conference on "Handcrafted Sustainable Luxury" at the Indian School of Business (ISB) in Hyderabad, Arun TD and I set out to explore Narsapur for its renowned lace and crochet making industry, which employs close to 160, 000 women artisans working out of their rural homes. This part of India serves as a sourcing destination for home furnishing, fashion brands and businesses across Europe, USA, Scandinavia, New Zealand, Australia and Japan.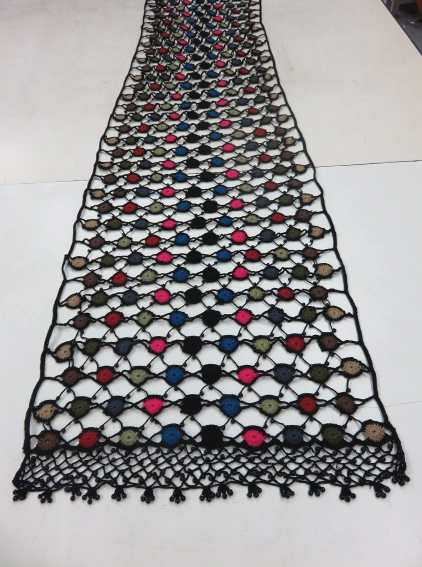 Fig:1 Handmade crotchet wall decor
While typical crocheted products in home furnishings, like table covers, place mats, table runners, curtains, bedspreads and cushions are made and traded both domestically and internationally; contemporary fashion wear and accessories for women like hats, bags, blouses, skirts, etc with exquisite craftsmanship , unique design and competitive prices is an attractive proposition that Narsapur offers.
Other soft goods such as kids' toys are too made here in almost countless varieties. Handmade with cotton yarn, and natural dyes used in colors, the safety and eco-friendliness of these products are in sync with modern consumer demand and sentiments!
Fig 2: Handmade crotchet toys

Traditional Skill, Modern Design
Though the intent of my trip to Narsapuram (Narsapur) was more commercial than educational, I still came back with a few important lessons and insights to share with fashion designers and entrepreneurs like you; and businesses who are looking to build the socially responsible and sustainable brands of the future!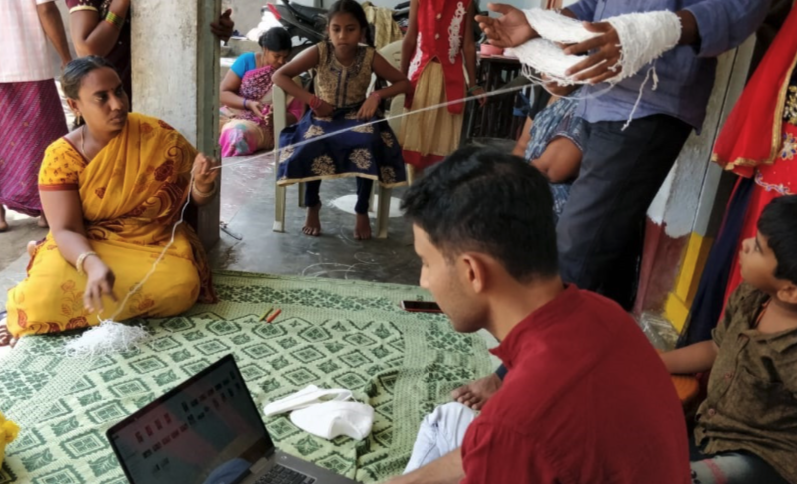 Fig 3: Team Rural Handmade on the ground with women entrepreneurs
I was carrying with me a crochet cum embroidered design for a women's fashion accessory that a young entrepreneur client from Paris wanted to commission in India. This product was one of its kind, a novel concept in footwear involving skillful crochet and beautiful embroidery, to be made with love and care by the less privileged but highly dexterous women, and to be retailed in fashion hubs across the world. My task was to get a sample made to assess the feasibility of commissioning this product in Narsapur.
Srinivas, a local lace champion (and my local guide), who himself seemed well-learnt in the craft of lace and crochet making chauffeured me to one of the villages where a few women, most of them related to each other, were waiting eagerly for us. Srinivas is employed by a local vendor who helps secure business opportunities, and hence bring employment to these rural women. He helps not only organize, supervise, and allocate work, but with quality control and logistic complexities which arise when a batch of product is being handmade in and across a network of dozens of villages by hundreds and thousands of women. This is a typical organizational set up of a rural cottage industry in India.
Fig 4: The Process of handmade is fundamentally decentralised, unlike the mass produced products

Skills and Industriousness equals Livelihood and Dignity
All of these artisan women are part of a rural, self-organized economy where traditional living blends in perfect harmony with commercial employment; where they trade their craft in exchange for a modest supplemental income. This income helps empower them financially and socially; sustains their family through tough times and comes in handy for better upbringing and education of their children. A typical day for these women starts as early as 5'o clock in the morning when they tend to the domestic cattle, house hold chores, get kids ready for school, cook for the family, see off their husband who work in the paddy fields, and then attend the self-organized , social gathering where artful work of lace making is accomplished.
Fig 5: Working from home is one of the biggest incentives working in this space, as women balances family and work.
You are the catalyst to "Handmade Renaissance"!
The craft of crochet and lace making, honed by generations of artisans over centuries, is still appreciated and admired by buyers everywhere. However, the lure of inexpensive, mass produced home furnishing from China has provided stiff competition to the cottage industries across the world. Machine made products are undifferentiated and economies of scale favor them because of the significantly lower production costs. From my conversations with Srinivas, I learnt that the lace and crochet business in Narsapur has been in a lull for some years now. However, with a renewed sense of social responsibility, sustainability and eco friendliness amongst consumers in recent times, communities, such as in Narsapur, are ready to realize their full potential in helping global entrepreneurs in fashion and home décor. It is time to take advantage of their exquisite craftsmanship and commission modern designs for the global and conscious consumers at affordable, competitive prices.
Fig 6: Crotchet for most women is Narsapur,India brings economic equity and financial freedom.
For information on how to source from India, meet with such maker communities, and take advantage of the low import tariffs, lower MOQ (small orders), unique designs that Indian handmade products offer, please get in touch with us!
Recommended
Business Management | Resources
The handmade market is a developing one that offers entrepreneurs special chances. This sector includes a wide range of goods, including artisanal foods and drinks, handcrafted jewelry, and home furnishings. Social networking and the growth of e-commerce platforms have made it simpler than ever for handcrafted company owners to expand their customer bases. This article will examine the development of the handmade sector, the benefits and difficulties of launching a business in the sector, the special prospects available there, and successful business tactics.