Community | People
4 Things, Creative Industry Can Learn Form The Gaming Industry
Aug 13, 2021 | Aaditya Ramvarzi
A good start would be, but, why from the gaming industry? There's no denying the massive success of the video gaming industry, and it's also fair to say this success hasn't gone unnoticed. It's an understatement to say it has only captured the entertainment industry; it has also permeated the business culture. Gamers worldwide are expected to generate more than $165 billion in revenues for the industry in 2020. This figure covers gaming revenue across PCs, consoles/TVs, web games, and mobile devices. It has outperformed other categories like the music, art, and film industries combined.
What can we learn from them?
The gaming industry thrives with passion. It forms the best synergy with different professions like art, design, UX, Programming, marketing, commerce, etc. But while we've been busy learning about this new industry, we've not stopped to ask what we can learn from it. So let's dive into it.

Fig: 1 Global Gaming Industry
Here are the 4 key lessons we can learn from the Gaming Industry:
1. Bringing in Play and Rewards for engagement
Advancements in technology have resulted in a massive rise in gamification. The borders between real life and games are getting thinner. It seems as though the human mind is programmed to get hooked to rewards, completing achievements, and showing off as a healthy competition. It's almost like a hack making mundane procedures feel more like achievements.
Businesses can learn from this. It can be in various forms like offering promotional rewards before a launch, or purchase bonuses, point or coin systems for completing tasks, quizzes, etc. Rewards are great customer magnets.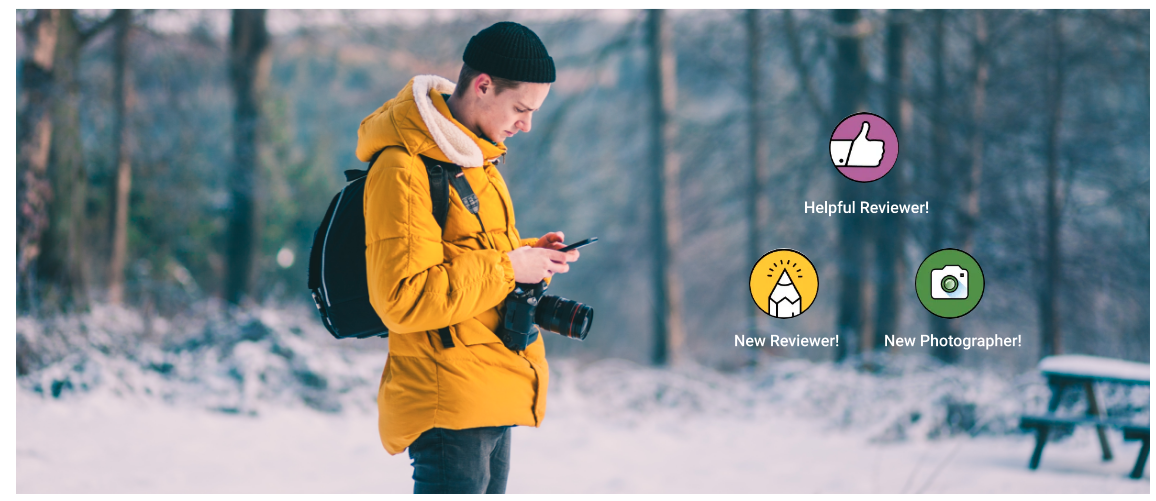 Example:
Tripadvisor Giving Badges On Specific Achievements And Task Completion
For handmade and Creative manufacturing brands, use relatable content like quizzes on the app and Instagram stories. Gifts that stack up for frequent purchases, discounts if the buyer chips in materials from recycled products, gamified testing for products, etc. Like these, there are endless ways to engage with your customers.
2. Engaging with Narrative storytelling
Video games are just one medium that uses storytelling, but their interactive nature makes them a clear and memorable example. Games are just like a movie, but the player plays the leading role, and he can change the story's outcome with all his choices and decisions.
Suppose your customer made a series of decisions in the narrative that made them interact with your brand or find your brand in the first place. Track these decisions and communicate/ advertise in the context of a story.
Example: Zomato Tells A Short Narrative About The Delivery Men, Thereby Increasing The Chances Of Getting Him A Tip
For Handcrafts/ Creative manufacturing brands, delivering your "why," "what," "how" about your products can put the manufacturers in the picture, help potential buyers understand what they would miss if they skip on your business, when customers start exploring your brand, provide them with a narrative: contextually it can be about your brand's values, principles, history, behind the scenes.

3. Creativity should be all around.
In the gaming world, every development team member has creative responsibility, as even the most technical aspects of game design demand a high level of creativity. Coding, for example, is not something most people would consider a creative exercise. However, its language is like any; the coding is as clever as the design in the gaming world.
Reflecting on the same, creative brands can make all the different departments from material suppliers, art directors, designers, sculptors, investors, stakeholders to even the audience taking part in a creative process. There are game companies that let their fans design art assets for their favorite game.
"We look for creative intelligence and raw passion at first, the rest can be taught later on."
While hiring manufacturers, working with new clients, commissioning an interior designer, or even making a new workspace. Creativity and passion thrive under most circumstances. Like mindedness and being on the same page is a boon while working in the creative manufacturing industry.
4. Making Dedicated Communities
The gaming industry has been booming in building dedicated communities of users. It is evident in organized clans of players who engage en masse in multiplayer online games. Playing the game is one part; there is much more to do in the online world. Attending virtual parties, playing with the developers, fashion contests, campfires, etc
Research shows these communities can drive greater reach, encourage conversions and enhance the customer experience. For example, when developers can find issues to fix, communities generate a list of tips and places where they want to see fixes, helping each other out.
Example: Domestika returning with their top monthly course seller on Instagram live for community interaction
As small businesses, this can be the hardest step but do remember communities don't form overnight. No matter how small is the user base, it will keep on growing and being more loyal. Few examples of interacting with your community can be frequent product updates on Instagram, commissioning fan designs, inviting fans for a creative workshop, live sessions with artisans and creators, etc.
CONCLUSION
Overall, these are the key lessons that you can learn as a business from the gaming industry and use these as a way to find new ideas to apply in your own business.
We hope the information in this guide will help you.
Have a question? Contact us to ask or to know more about what we do and how we can help you!
Recommended
Business Management | Resources
The handmade market is a developing one that offers entrepreneurs special chances. This sector includes a wide range of goods, including artisanal foods and drinks, handcrafted jewelry, and home furnishings. Social networking and the growth of e-commerce platforms have made it simpler than ever for handcrafted company owners to expand their customer bases. This article will examine the development of the handmade sector, the benefits and difficulties of launching a business in the sector, the special prospects available there, and successful business tactics.