Community | People
Design London 2021: My Experience At The Event And Reasons Why You Should Attend Design Shows
Oct 07, 2021 | Tahera Tamanna
Since COVID has started, I haven't had the opportunity to attend as many shows as I would have liked to. The Design London is the first show I have been in a while and it's safe to say I have missed attending them.
The event was organised at Magazine London, situated at the heart of Greenwich Peninsula. The venue is flexible, designed with simple architectural form, creating functional spaces that leaves room for creative expression for designers.
I went on the 22nd of September to attend the Design London event. This show was organised to provide opportunities for the global architecture and design community, and as such, carefully chosen furniture, lighting and contract interiors brands were present to show local designers. It was the ideal place if you wanted to source products for your next project or alternatively, if you wanted to be inspired or maybe, if you just wanted to have a bit of fun!
As I entered the venue, I was met with the electric atmosphere of the event, where a series of different spaces that were accommodating individual businesses, were separated by moving walls.
Here is what I gained by going to the show and reasons why you should also attend a design event:
1. INSPIRATION
Being someone, whose profession includes talking to interior designers, going to this event has been an eye-opening experience which allowed me to gain a big dose of inspiration.
It was fascinating to see how business owners were using a range of different methods to promote their products to their potential customers or collaborators.
Since it was a global business event, it wasn't surprising that there were many who did not speak English fluently, however this didn't stop them from approaching people and talking to them. Having products to showcase while they spoke was surely helpful as they were able to explain better by indicating respective parts of the object. However, for those of you who know multiple languages, you may actually have an advantage when it comes to connecting with these people! For example, as I know how to speak Italian, I used this skill I have as a way to start conversations with other Italian people. What I realised is that they instantly felt more comfortable and happier as they spoke, being able to connect through their mother tongue.
If you are someone who feels insecure about your English because of it not being your first language, you could take inspirations from these people who are putting themselves out there even as they struggle speaking.
Your behaviour and your way of approaching others is way more important to people than you being able to speak the language perfectly, because what's most important is the work or product that you are showcasing!
2. NETWORK & POSSIBLE FUTURE COLLABORATIONS
Meeting people that have interests in the same field as you, it's fun and enjoyable. In my experience at the Design London event, I was able to enjoy refreshing conversations, talking about furniture, lighting and interior design products. It was a good way to obtain business and design tips for myself.
According to BAASS author (Author, B., n.d.), one of the most crucial benefits of networking is meeting other influencers in your industry because these people who are in similar positions as you, might have more valuable knowledge on your industry than you. Therefore, they can influence and encourage you to do better and create opportunities for you now or in the future.
What all these companies had in common was that they were all eager to promote their business. They were prepared to answer any questions the audience had, confidently and with a welcoming approach which is the best way of building successful connections.

3. BRINGS AWARENESS TO YOUR BUSINESS
Whenever I was meeting with people from different brands, they were introducing themselves to me, as I was also doing the same. I told them about who I am, where I work, the position I work for and what our company does, as well as its beliefs and values. Though not everyone was always attentive, some people were, and you want to take that opportunity because you never know who might be interested in building a connection with you!
In addition, this is a great chance of getting your business known by others and promoting it!
4. GREAT WAY TO GET LIVE COMMUNICATION WITH EXPERTS
There is something about seeing the products up close and getting it explained from experts to you in person, instead of looking at it from a screen: it always feels better to get a live experience. At the show, the first thing I always did as I stopped in front of each different brand space, is feeling the texture of their products.
According to Mike Walker (Made By Many, 2017), who designed the 'Golden Circle' inspired by Simon's Sinek, this is how he considers users' feelings about a product. This circle shows that the user's interaction with the product starts with its aesthetic design, then it moves to physical interaction and lastly it moves to the user's feeling. The latter is instantly created when they use the product.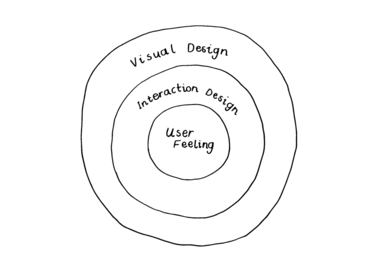 'Golden circle' Image by Mike Walker (Made By Many, 2017)
Furthermore, as a business owner you should also be aware of new trends and the latest news in the industry which means that attending events such as Design London and meeting up with other business owners will help you stay ahead of the trends. In addition, it will allow you to get refreshed from your routine.
Since Rural Handmade, our company, is a sustainable development goal focused company, a common topic between me and these brands, was about that. Most of these business at the fair had also sustainably made their products, so the conversation between us flew smoothly as I asked about the sustainable practices they used when processing their products.
Read more on why interior designers should make more sustainable choices
Overall, attend the Design London was an amazing and useful experience. I would advise anyone to go out and attend events, meet people, connect, and get inspired because that's one of the quickest ways of growing as a business owner, designer or anything for the matter!
Finding the right supplier for your interior design business can be difficult.
Here, at Rural Handmade, we can help make your business more sustainable and we will commission a design you have in mind into an actual product for you to be ready to then just sell!
You can contact us to send your ideas, or else to find out more about what we do, or to just simply let us know about your thoughts on this blog!
Magazine. (2021). Home - Magazine. [online] Available at: https://magazinelondon.co.uk/#event-spaces [Accessed 30 Sep. 2021].
Recommended
Business Management | Resources
The handmade market is a developing one that offers entrepreneurs special chances. This sector includes a wide range of goods, including artisanal foods and drinks, handcrafted jewelry, and home furnishings. Social networking and the growth of e-commerce platforms have made it simpler than ever for handcrafted company owners to expand their customer bases. This article will examine the development of the handmade sector, the benefits and difficulties of launching a business in the sector, the special prospects available there, and successful business tactics.