Community | People
Campanian Pottery And Ceramics Of Italy
Mar 12, 2022 | Simona Oliva
The word «ceramic» comes from the ancient Greek κέραμος, kéramos, meaning 'clay', 'potter's earth' and is an inorganic material that is very ductile in its natural state, but stiffens after firing. This material can be used to produce many different types of objects, such as tableware, decorative objects, building materials such as bricks, tiles and roof tiles, and wall and floor coverings for homes, and can be glazed and decorated.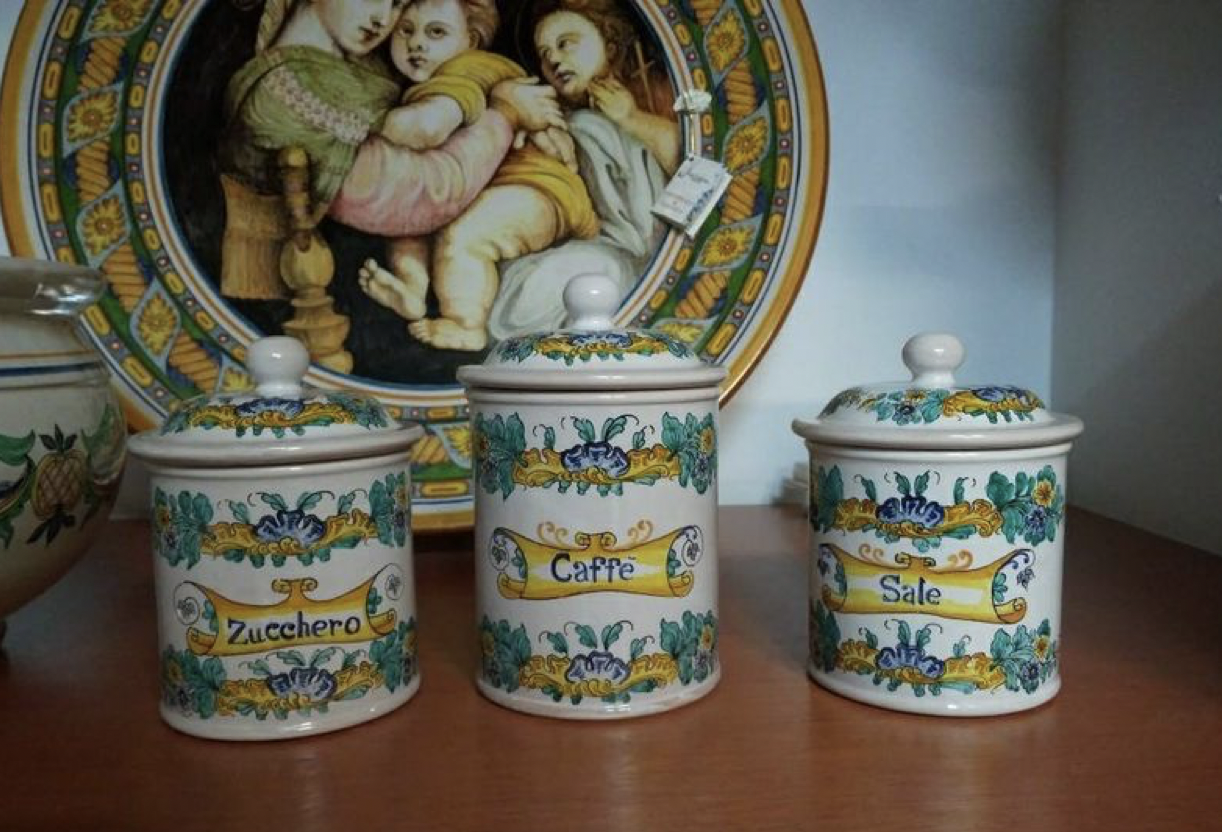 Fig.1 Ceramic objects for sugar, coffee and salt
Although the word ceramic comes from the Greek keramos, its invention dates back much further. In fact, as early as the Neolithic period, and perhaps by chance, men noticed that a well-compacted clay solidified when heated by fire. And it is from that moment that man began to model clays, experimenting with increasingly advanced techniques to achieve better results. Curiously enough, ceramics have been discovered twice: in Mesopotamia, and in Japan, and although these territories are distant both geographically and culturally, the destination of the finished products was identical: they were, in fact, containers for holding water and food. From these places of origin, it then spread throughout the world.
With the advent of the Egyptian civilisation, ceramics began to be worked to make decorative objects such as tiles. The Greeks also used clay and this period was called ''geometric'' as there was a prevalence of geometric figures in the decoration. Later, the Etruscans began to use this material to create masks and sculptures.
During the Middle Age began to be used the lathe, one of the first tools that allowed for more precise workmanship, but they also started to use the kiln and brighter colours. A further innovation was glazing, that is decorating the clay support with "vitreous paints", which also led to the creation of decorative objects.
It was thanks to the spread of Islam that ceramic tiles arrived in Europe, via North Africa and Spain.
Majolica tiles then conquered southern Italy and travelled up the peninsula. Here, even if ceramics were already being used in Roman times, it was not until the Middle Ages that the first ceramic artisans' workshops sprang up, producing crockery and other everyday ceramic objects, some of which were enamelled, which became true works of art. Later, sparkling colours, which are still used today, also began to be used and became characteristic of majolica.
Fig.2 Ceramic dish
The most successful period in Italy was certainly the Renaissance, in fact from the 15th century onwards, ceramics became the most widely used covering material on the floors and walls of churches, palaces and public offices, particularly in Tuscany and Emilia Romagna.
Therefore, the art of ceramics is very old and widespread in various parts of Italy, and Campania can boast numerous centres of artistic handicraft production in its territory, for example in Ariano Irpino or in Benevento, such as in the towns of Cerreto and San Lorenzello, or on the Amalfi Coast, such as in Vietri sul mare, Amalfi and Positano.
Fig.3 Cloister of Santa Chiara, Naples
In Campania, there is, primarily, the production on the Amalfi Coast, which has an ancient tradition. Pottery making in this area has very ancient origins: in fact, terracotta bowls, belonging in all probability to primitive men, have been found in a cave in Positano. After all, the coastal area is rich in clay and volcanic material, which is why it has been used to produce pottery for thousands of years. Apart from Positano, the tradition of pottery is very old in Amalfi, and there are records of kilns and pottery workshops as early as the Middle Ages. Nowadays, the ceramics of Vietri sul mare , which is also a UNESCO World Heritage Site, and that of Positano are the most famous.
Another characteristic of the Neapolitan area is the lava stone, obviously very difficult to decorate due to its shape and structure, but these limits have been overcome thanks to the application of ceramics on stone.
In Naples, on the other hand, one of the city's most famous monuments, thanks to the art of ceramics, is the majolica cloister of the Monastery of Santa Chiara, which was last modified in 1700 and it is located in one of the city's most famous streets, Spaccanapoli.
Another area famous for ceramics is Ariano Irpino, which boasts one of the oldest traditions of ceramics, probably dating back to the Etruscan period, and where there were found fragments of pottery in the excavations of the Norman castle that show that Ariano's ceramics production was already present in the 13th century. The production of that period was mainly of utensils and furnishings of various kinds with bright and vivid colours.
The area of Benevento is a land of millenary history, made up of legends and ancient traditions, including that of artistic craftsmanship. In this area, the two neighbouring municipalities of Cerreto Sannita and San Lorenzello are centres of excellence in the handicraft production of ceramics, a centuries-old tradition that continues to be guarded and handed down from generation to generation. When the 1688 earthquake reduced the Sannio area to a heap of ruins, the reconstruction process required intense building activity that brought workers and materials from many parts of Italy to Cerreto and San Lorenzello, especially ceramists, who contributed to the creation of the decorations that still characterise production in these areas. Consequently, favoured by the abundance of raw materials, particularly clay, the art of ceramics spread to these two municipalities, where it enjoyed a long period of splendour from 1700 onwards.
Fig.4 Ceramic tray with typical Campania decoration
The ceramics created by these craftsmen include wall plates, but also serving dishes and trays, vinegar bowls, salt shakers, soup tureens, jars and hydrias, simple and elaborate amphorae, stoups, oil lamps, jugs and pitchers, basins, etc. The most common painted themes include religious or landscape decorations, with a focus on nature and the surrounding environment. There is no shortage of the famous wind rose or festoon tiles. The predominant colours are usually yellow, orange, copper green and blue, i.e. all the shades of nature's colours.
Even today, in the workshops of ceramic artisans, one can find holy water stoups, medallions, tiles and other everyday objects that in the past enriched homes and sacred places, created by the skilled hands of clay craftsman. Many of these workshops present today have been handed down from generation to generation, with artisans learning to work with clay from their parents and grandparents. Thus an ancient tradition continues, respecting the styles, colours, designs and decorations of times gone by.
Fig.5 Pots designed by Arte Ceramica Sagnella
However, the processes to create these products are not simple. The clay is the raw material with which work begins. It is very malleable and can be easily worked with the hands. The most important characteristic is certainly its plasticity, thanks to which clay can be modelled and is able to maintain its shape. Obviously, there are different types of clays and depending on the technique to be adopted, the most suitable one is chosen.
There are various types of ceramic, and the main types are:
- Earthenware
- Majolica
- Stoneware
- Porcelain, which may be hard or soft-bodied
Fig.6 Ceramics
The manufacturing process is quite complex and delicate and requires much care and attention. The main processing steps are:
1- Selection of the clay, which is done according to the type of work and object to be created;
2- Processing, a phase in which the clay is cleaned of all its impurities, mixed and compacted to eliminate any air bubbles present inside;
3- Shaping - in which the object is given shape. There are various techniques, for example
By hand, one of the oldest ways of working with clay, in which clay is worked using only the hand
By slab or sheet, where you start with a slab of clay, which can be cut with a wire or rolled out with a rolling pin, and then shape the object
A lathe, a rotating support with a plate on which the clay is placed to be modelled by hand and is very useful for creating cylindrical and circular objects, such as vases
Casting, in which a plaster mould is prepared in negative of the shape to be made, into which the clay is then poured, which will be removed once hardened and, if necessary, finished by hand
4- Drying, in which the object is left to air dry and harden and the drying time may depend on various factors such as the size and thickness of the object, the type of clay, the temperature of the surrounding environment. Of course, after this stage the object cannot be modified.
Fig.7 Arte Ceramica Sagnella is shaping the object
5- First firing at very high temperatures, the timing of which can vary depending on the size of the object, which can only be removed after the kiln has cooled completely. At this stage the object becomes more resistant, the volume decreases a little and the clay changes colour, which, depending on the type of clay used, can be red, white, black, etc.
6- Glazing, in which the whole object is given a background, for example a white background to be decorated later, and its main purpose is to protect the object from wear and tear, but also to facilitate its maintenance and decoration; there are various techniques for enamelling an object, but the most important thing is that the enamel is applied evenly over the surface of the object. In addition, there are different types and colours of enamel, which is chosen according to the purpose, for example, those for kitchenware are suitable for food use.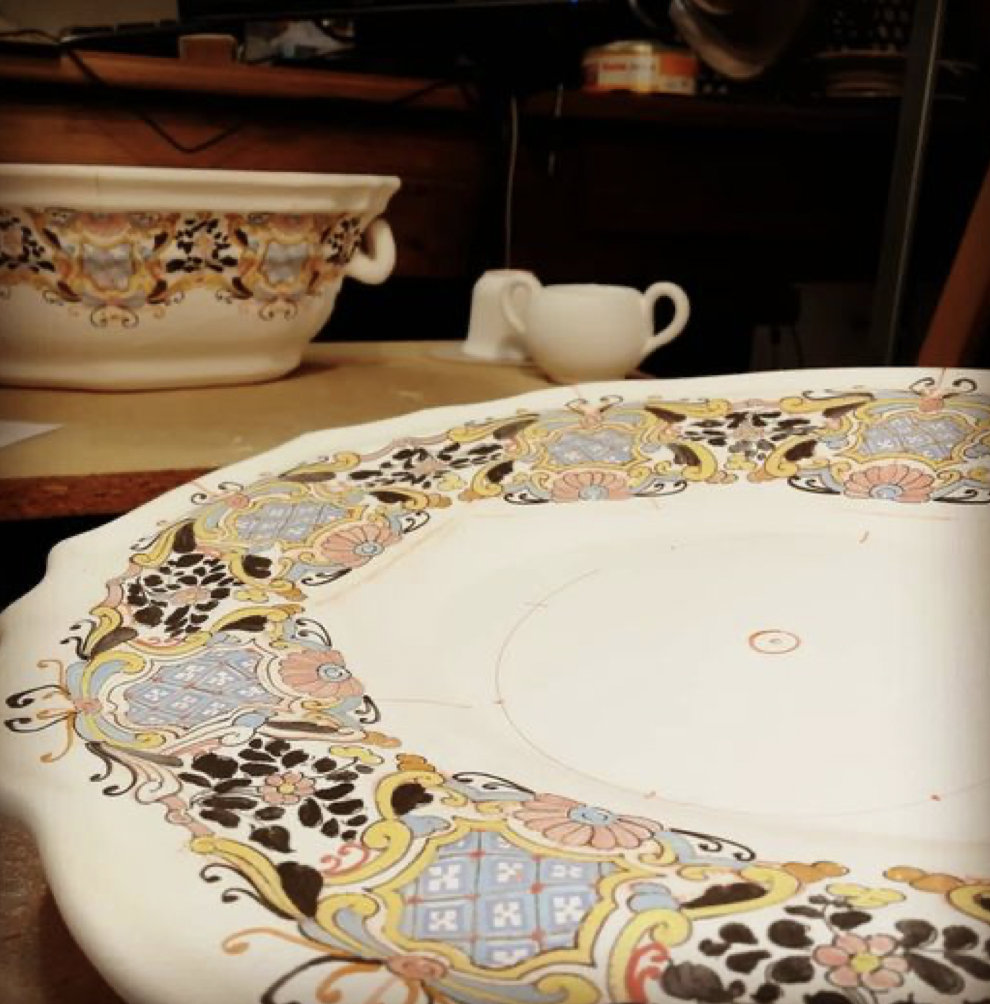 Fig.8 Decorating the object
7- Decoration, which is usually done by hand with a brush and colours suitable for ceramics
8- Second firing at lower temperatures than the first firing, which is the final stage, where the glaze is fixed on the object, which vitrifies, i.e. makes the glaze shiny and waterproof. Once this phase is over, the object is finished.
Fig.9 Object before and after the final firing
The whole process is therefore very long and complex and can take days.
But today the most important challenge for the entire ceramics sector is that of sustainability, which is reducing the environmental impact of the ceramics production cycle. To better understand, it is necessary to analyse the entire life cycle of a ceramic object, namely from the extraction and production of raw materials to demolition and waste disposal.
While ceramics are made from natural raw materials such as clay, sand, etc., what has the greatest impact on the environment is the production process, and the most relevant aspects to consider are gas emissions, water consumption and discharges, waste and scrap, and energy consumption.
However, it should be pointed out immediately that the Italian ceramic industry was one of the first to address the environmental problem, developing more environmentally sustainable technologies with low levels of pollution. In fact, clay mixtures are processed according to the processes mentioned above, which, even if for example very high temperatures are used in the kilns (around 1000°), can be characterised by a reduced environmental impact and the continuous recycling of all waste, which can be reused in many ways. In addition, the problem of emissions is also solved thanks to the purification plants, just as water is reused. As far as the glazing phase is concerned, it gives this material its main characteristics, which are for example an excellent resistance to time as it protects the piece from wear and tear, resistance to extreme weather conditions and variations in temperature, but also to humidity and chemical agents, thus making the final product consistent with the principles of the circular economy, which are based on maintaining the value of products for as long as possible and reducing the production of waste.
Finally, as everything is usually recycled in a craft company of this type, the only element that produces waste may be the enamel, but it is important to stress that this waste is minimal and is then disposed of as special waste.
In conclusion, we hope that this blog has been helpful to better understand some of the history of ceramics, but more above all the complex production processes and environmental benefits of using ceramic products created in this way.
We hope you enjoyed this blog! In the meantime, why not read this blog on How to create complementary products around technology.
Recommended
Business Management | Resources
The handmade market is a developing one that offers entrepreneurs special chances. This sector includes a wide range of goods, including artisanal foods and drinks, handcrafted jewelry, and home furnishings. Social networking and the growth of e-commerce platforms have made it simpler than ever for handcrafted company owners to expand their customer bases. This article will examine the development of the handmade sector, the benefits and difficulties of launching a business in the sector, the special prospects available there, and successful business tactics.