Home And Living | Shop By Sustainability
A Christmas Like Never Before In 2020- How To Source Sustainably On Trend Christmas Decorations For Your Brand
Apr 01, 2021 | Konark Ogra
Christmas in 2020 is different, the Covid-19 has caused a disruption seen like never before, as the year comes to an end, many of the consumers are looking at brands that are not just solving economic but also social problems with a fresh supply chain with a new perspective.
As this year has been unprecedented, let's also make our shopping different and make embrace a new tradition of sustainable purchasing. Decorating with objects made of natural materials like Corkwood, recycled glass, straw, linen, cotton, and recycled metal has always worked really well.
1 Ceiling Lamps from cork, 2,3,4 Table lamp from Cork, 5 Christmas décors from cork, 6 Kitchen Plate from cork.
Christmas displays: floral arrangements also play a traditional role in our annual Christmas decorations and nothing can replace the Wreaths made from Dry flowers and handmade tissue-paper flowers as they last long and also Look great. The various options of the color spread an instant celebratory feel to the room and atmosphere.
Christmas Door Wreath Natural made from natural flowers, Pine Cones and Berries
In addition to the usual gifts, Christmas tree accessories made from recycled glass, beads, reclaimed wood, and recycled metal create a perfect sustainable Christmas.
Handmade accessories made from renewable materials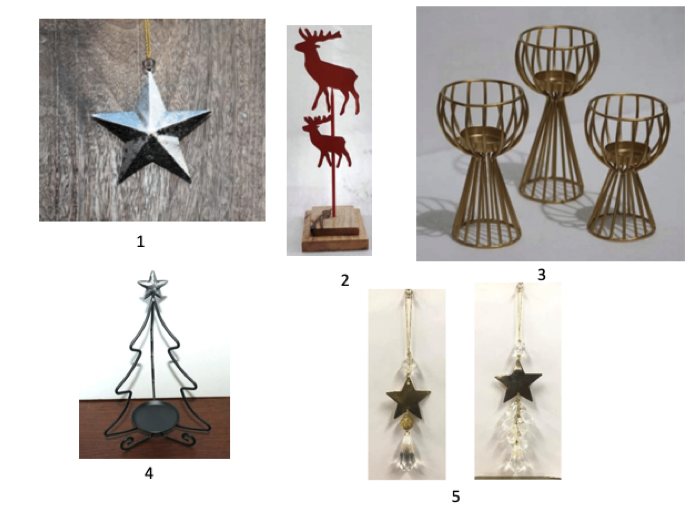 Handmade accessories made from renewable materials like recycled aluminum and glassware

The use of sustainable wood is essential when it comes to sustainability Mango wood is, fundamentally, the by-product of an already thriving industry: Mango fruit. Unlike the big towering oaks of North America and Europe that can take 50-100 years to mature, mango trees mature quickly; reaching 90-100 feet in around 15 years. Also, these trees are used to make furniture when they get old and aren't producing mangos for consumption, eventually, they are harvested for timber and a new generation of trees is planted.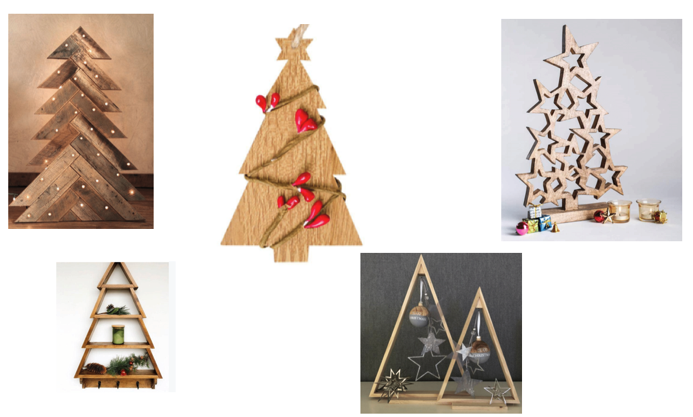 Christmas tree for indoor use made from Sustainable Mango wood
Home furnishing pleasures: Since we spend more time than ever before at home it's great to look at how to make a home more "Christmassy" starting with home furnishing products, from luxurious Linen to organic cotton.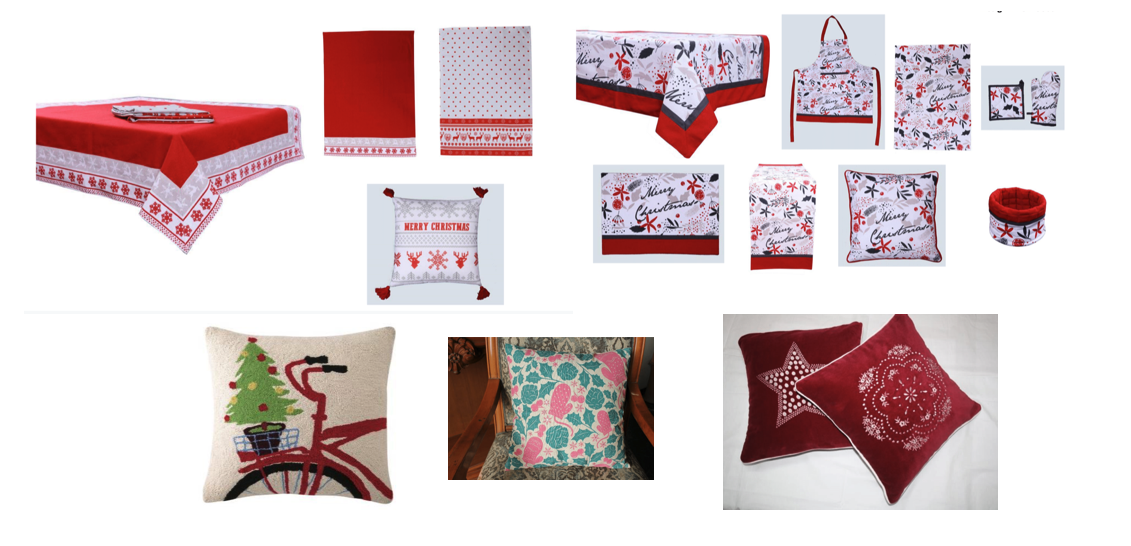 Home furnishing with Christmas colors makes perfect gifts for consumers.
Children are spending longer at home too, so why not keep them entertained with this set of handmade organic dolls made from sustainable cotton. We need to encourage the spirit of handmade and sustainability with our future generation.
Handmade dolls from sustainable organic cotton made by skilled artisans
Christmas means new tableware: 2020 can be a year for a lot to not remember, but this is also a time where we stop the use of single-use plastic and choose a sustainable alternative for the kitchenware, retail business must provide a wide variety of carbon-negative products as options starting with these recycled glasses, Some interesting statics with glassware is that it is made from "as every tonne of glass recycled saves 322KwH of energy, 246 kg of CO2 and 1.2 tonnes of virgin raw material, it helps in savings on waste transport and disposal costs, and glass reduces the quantity of waste to be treated or dumped.

Travel accessories and writing Journals for 2021: As traveling isn't so straightforward, but with news on vaccines launching in Q-1 2021, travel will be unlocked and hopefully we can see our loved ones without barriers. This makes it more important than ever to show our affection and personalize gifts around life being normal: perhaps a small gift wrapped in the sustainable and beautiful paper also diaries for Handcrafted by Skilled artisans using 100% Genuine & eco-friendly Recycled cotton paper.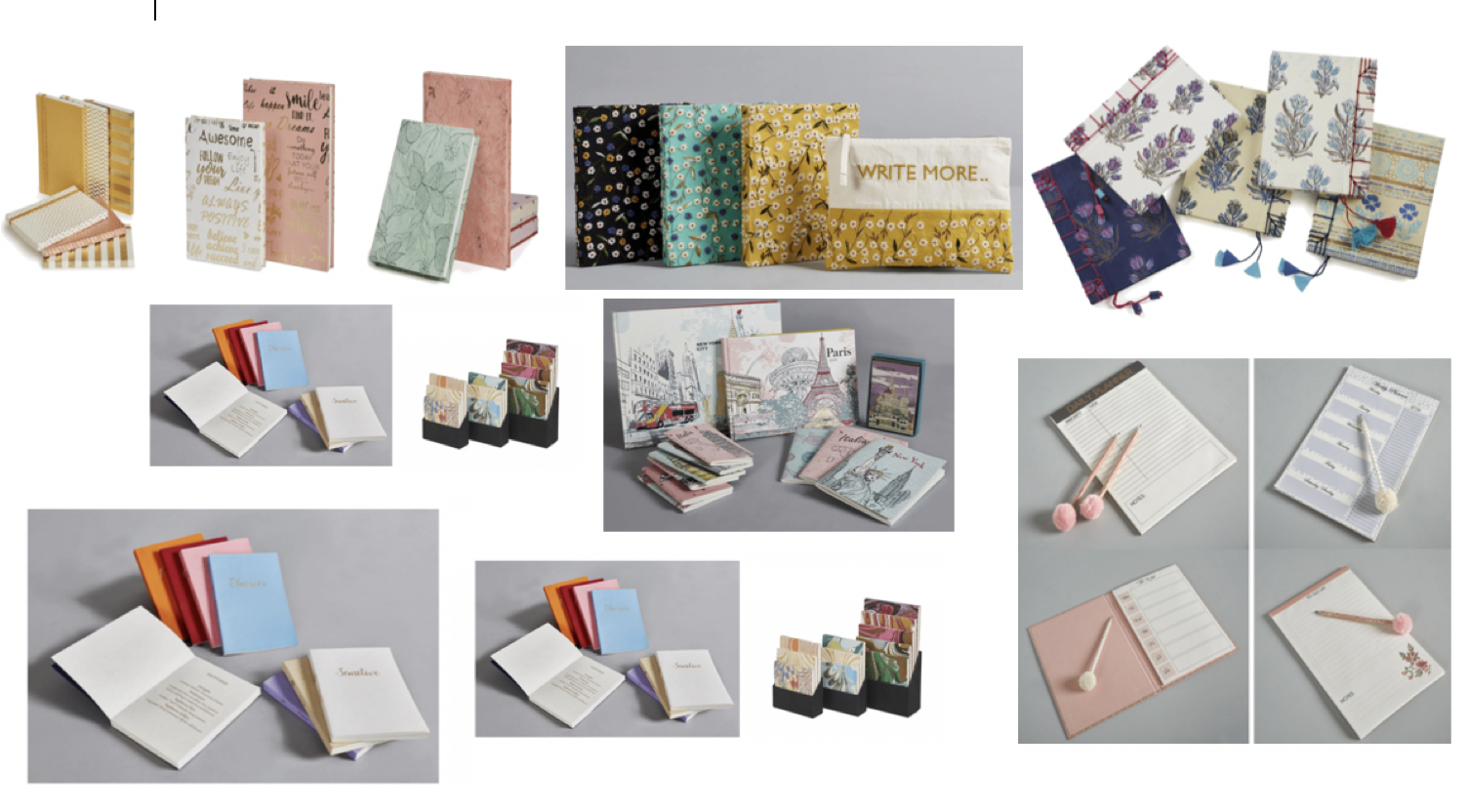 Handmade artists paper & handmade wrapping paper
Recommended
Business Management | Resources
The handmade market is a developing one that offers entrepreneurs special chances. This sector includes a wide range of goods, including artisanal foods and drinks, handcrafted jewelry, and home furnishings. Social networking and the growth of e-commerce platforms have made it simpler than ever for handcrafted company owners to expand their customer bases. This article will examine the development of the handmade sector, the benefits and difficulties of launching a business in the sector, the special prospects available there, and successful business tactics.