Diy | Living
32 Crafts Of Southeast Asia (part 1)
Jan 10, 2022 | Saima Khan
SouthEast Asia is famous for its traditional crafts, from intricate durrie rugs to wooden carvings! It is clear that the appeal for these crafts has risen since the modification of the crafts, bringing the world a blend of old and new. These crafts have been developed carefully through time and have now been modified for our modern pallet! The authenticity still seeps through the crafts that have been adapted for the 21st century. In this blog we will together explore the different crafts, their origins and how they're made. So keep reading to find out more!
32 Crafts of SouthEast Asia (Part 1)
The infamous Zari thread:
Used traditionally in Indian, Pakistani, Bangladeshi and Persian garments, carpets and other materials, zari is traditionally made of fine and even thread of gold or silver. Due to the intricacy of the zari thread, it is often woven into fabrics primarily made of velvet, felt or silk as it can be woven into intricate patterns. You might have heard about zari as it is one of the oldest embroidery styles in SouthEast Asia. The breathtaking pieces this unique thread can create is perhaps the reason why it is used extensively in traditional clothing and home decorations and due to the beauty of the zardozi embroidery, four different types of zari thread have been created to make it more accessible to the everyday public. The four zari types are: real zari, semi real zari, imitation zari and plastic zari.
Within India the main home producing zari is Surat. Surat impressively produces roughly 55% of the demand and has around 15,700 zari units to cater towards this. Therefore, the production of zari provides a vast amount of employment for those in India (over 100,000). There are also 50,000 artisans providing their support to the zari producing industry in India.
In todays climate the zari work has been adapted into decorative cushions and even masks which you can find here!
Leather footwear: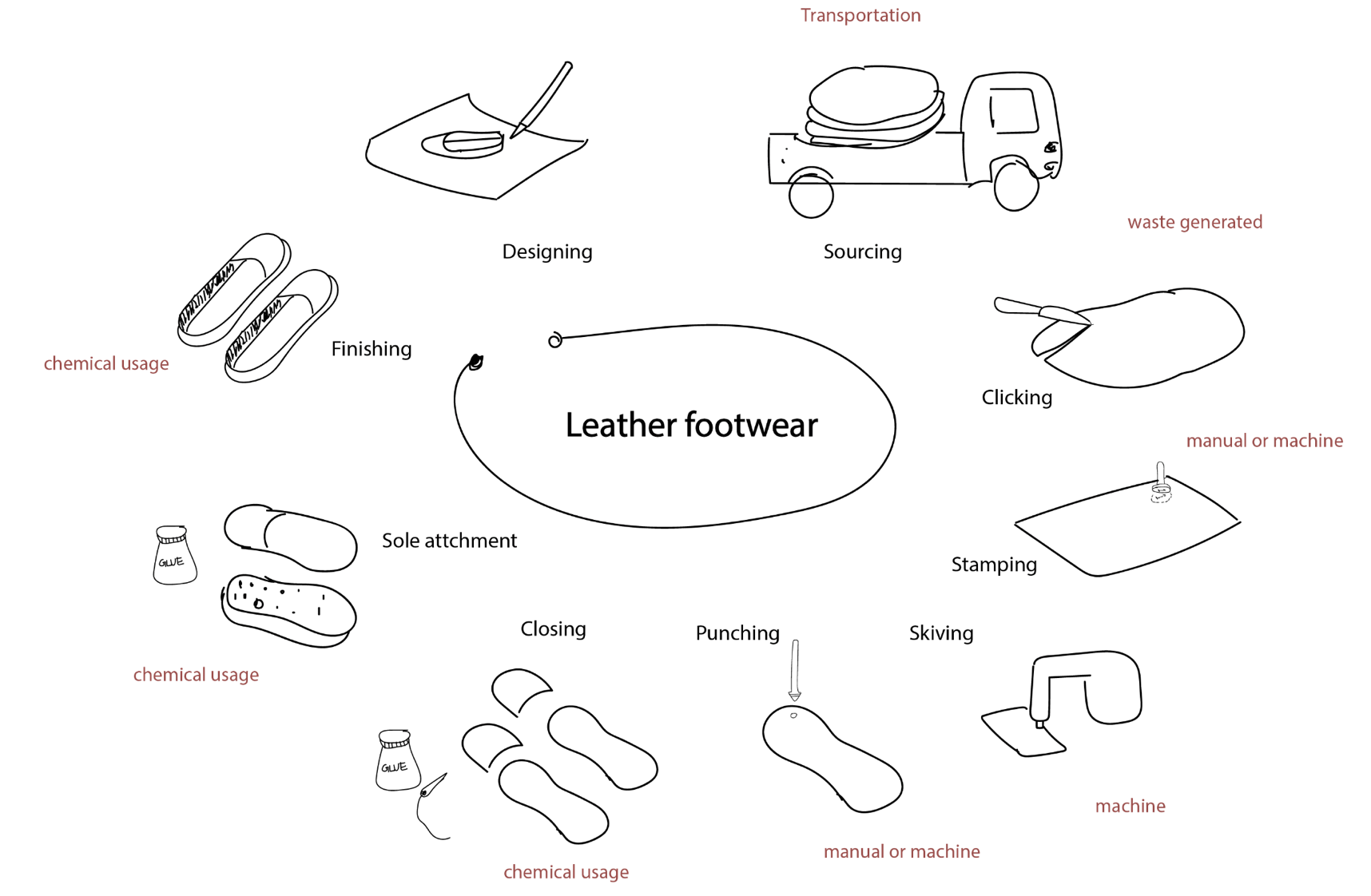 Being one of the oldest traditional industries in India, leather and allied industries provide employment to a large number of artisans throughout the country, proving to be a major asset to the country. Due to the number of artisans working on this craft, India has the capacity to produce 900 million pairs of leather footwear and impressively 100 pairs of leather shoe uppers. Furthermore, since leather footwear is greatly popular with the rest of the world, the industry also gains foreign exchange through exports. The leather footwear industry alone employs over 100,000 across the country and to provide this employment there are around 2,091 tanneries which function across the country.
The leather footwear craft isn't only unique to one or two cities in India; instead a broad number of cities work on the production of this particular craft. This means there are artisans who are particular to this very craft all over the country! The cities included in leather footwear production include: Calicut, Himachal Pradesh, Odisha in Kerala; Jaipur, and Jodhpur in Rajasthan; Kolkata in West Bengal; Chennai and Ranipet in Tamil Nadu; Mumbai Maharashtra; Agra, Lucknow and Kanpur in Uttar Pradesh, Jalandhar in Punjab and lastly, Delhi, Karnal and Faridabad in Haryana.
You can now purchase your very own authentic leather footwear here!
Other leather goods:



Leather goods other than leather footwear such as: stuffed toys, wallets, bags, purses, belts, pouches, lampshades and jackets make up the remainder of most of the leather industry in India. These other leather crafts are produced again in different regions of the country including rural areas where the hide from camels and cattle is locally cured and undergo a tanning process. This type of leather production accounts for a major amount of total exports of this craft. Similarly to the production of leather footwear, other leather products are curated all over the country, as different regions have different crafts to offer. Such places include: Tamil Nadu, West Bengal and UP. As discussed in the leather footwear section, the leather industry employs an expansive number of people across the country and mostly from the weaker or less economically developed regions of the country.
The intricately crafted carpets: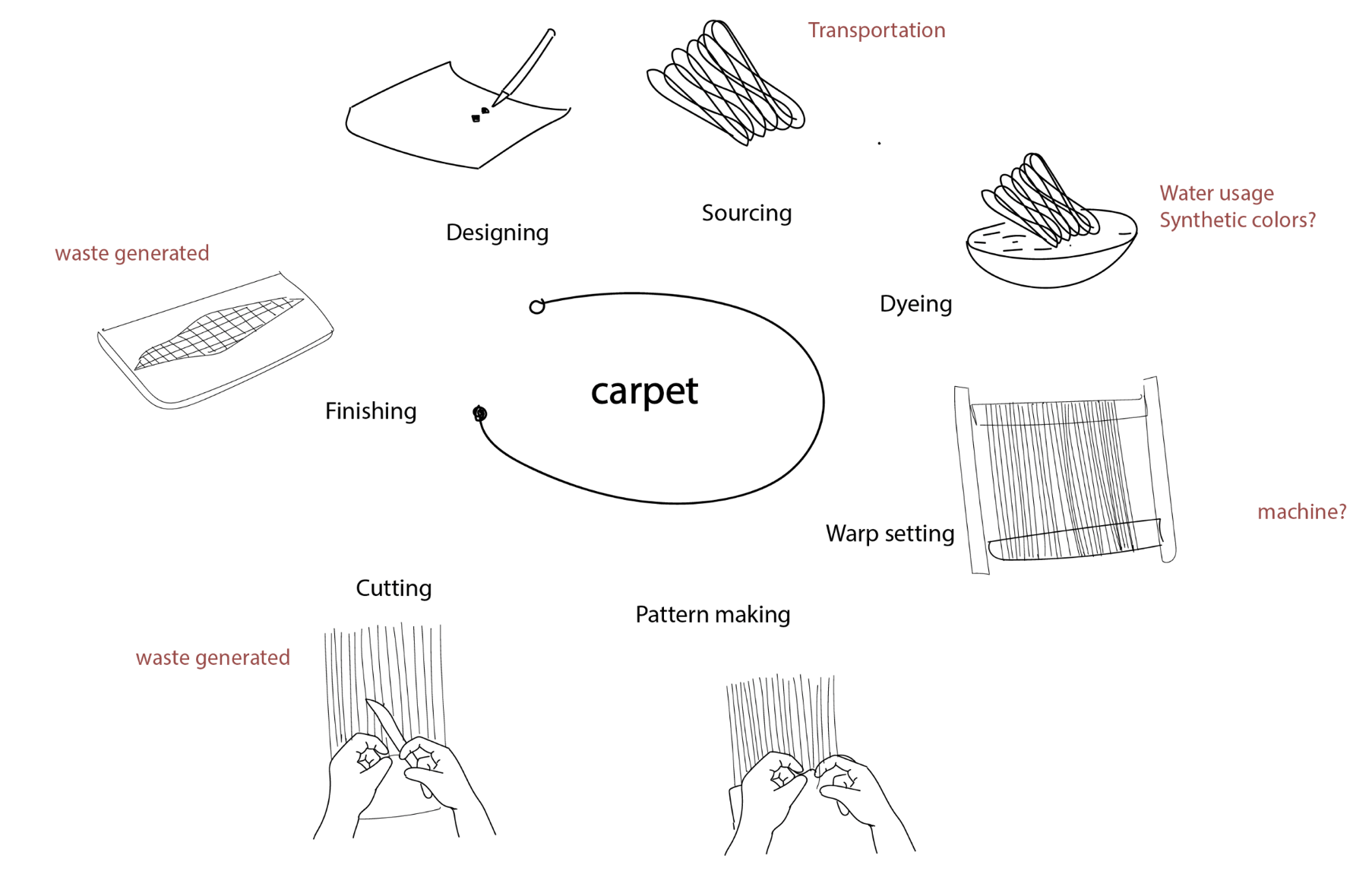 Being primarily an export oriented industry, various different carpets are manufactured in India. There are multiple carpet weaving centres across India and each has its own competitive advantage. The main centres are included in: Bhadohi, Varanasi, Mirzapur, Agra, Jaipur, Bikaner, Kashmir, Panipat, Gwalior, West Bengal, Uttarakhand, Karnataka and Elluru in Andhra Pradesh. The Indian carpet industry has over 2 million artisans, this may be due to the intricacies and details each individual carpet crafted has. There are multiple different styles of carpets manufactured including: hand-knotted woolen carpets, handmade woolen durries, tufted woolen carpets and pure silk carpets. Furthermore, each carpet has different intricate designs, embroidered or woven in, which symbolise different things.
Listed below are the different designs and the meanings they hold:
Circle - Eternity

Zigzag - water and lightning

Tree - Bounty

Swastika - Guiding light in darkness

Meandering line - Continuity of life

Entire pattern - Visible world of change

Entire carpet - Emblem of eternity
Now if you want to decorate your home with layers of carpets here's the place to look!
The carefully crafted Rugs & Durries:
You may be wondering what the difference between Durries and Rugs are, well, Durries are simply a lot lighter as they are often made with cotton. Due to the lightweight and reversible properties, Durries can often be found in homes of the Rural Villages adorning the floor. There are a range of different styles of Durries and it seems as though different regions of India have localised different Durrie traditions, hence why there are a multitude of different regions that are famous for making Durries. These regions include: Jaisalmer and Barmer in Rajasthan, Bhavani in Tamil Nadu, Navalgund in Karnataka, Warangal in Andhra Pradesh and Panipat.
Producing a number of different rugs such as: Namda ( felted rugs), Gabba (embroidered rugs), wooden pile rugs as well as cotton rugs; there is no wonder why India is one of the leading countries when it comes to rug production! Similarly to the production of Durries, the production of Rugs spans a vast number of regions in India, such as: Agra, Jammu, Kashmir in Kashmir, Bhadoi and Mirzaur in UP, Jaipur in Rajasthan and Panipat in Haryana. These rugs and durries can now also be found here!
The Various Different Textiles in SouthEast Asia:
Handlooms
Second only to agriculture, the handloom industry is the second largest in India when it comes to providing employment. With 86% of handloom weavers being native to rural areas as well as semi-urban areas, it is clear that the handloom industry is fantastic at providing employment for the lower economically developed parts of the country. Some of the regions in the country that provide employment include: Bahraich, Shaher, Boudh, Bhuj, Karim nagar, Patan and varanasi.
Now with all of this information it is sufficient to say that the Handloom industry in India reflects a rich history of culture and tradition that is unique to the country itself, as it produces 85& of the total production globally. Now since India produces a variety of different products using a variety of yarns and fibres; India happens to produce 14.6% of the total cloth production through handlooms alone and this does not include wool, silk and yarn.
Hand Embroidery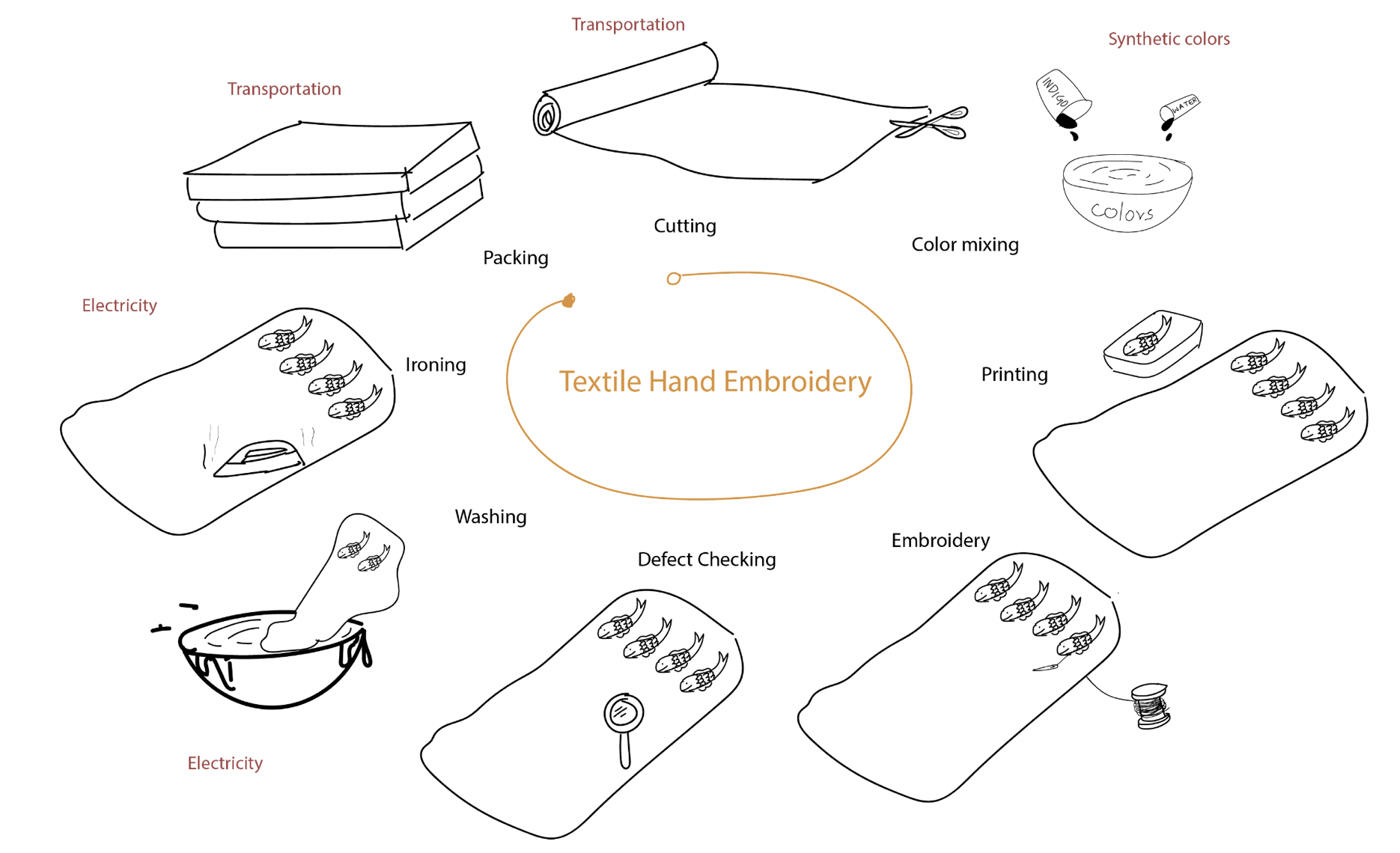 Various types of hand embroidery are practiced within the SouthEast of Asia and there are a sea of different types of hand embroideries that are practiced across these countries. For example, specifically within India, each type of hand embroidery is not only different from each other but they each have their own significance, carrying a unique beauty of their own!
As discussed earlier on in the blog, Zardozi hand embroidery is widely recognised as it is a world famous hand embroidery craft.
In India particularly, there are many different clusters which produce hand embroidery products, for example there's Chikankari and Zardozi of Lucknow, Katha of Bengal, Kashidakari of Kashmir, Fulkari of Punjab and Kutchi embroidery of Gujarat
Purchase your very own hand embroidered products from here!
Hand printing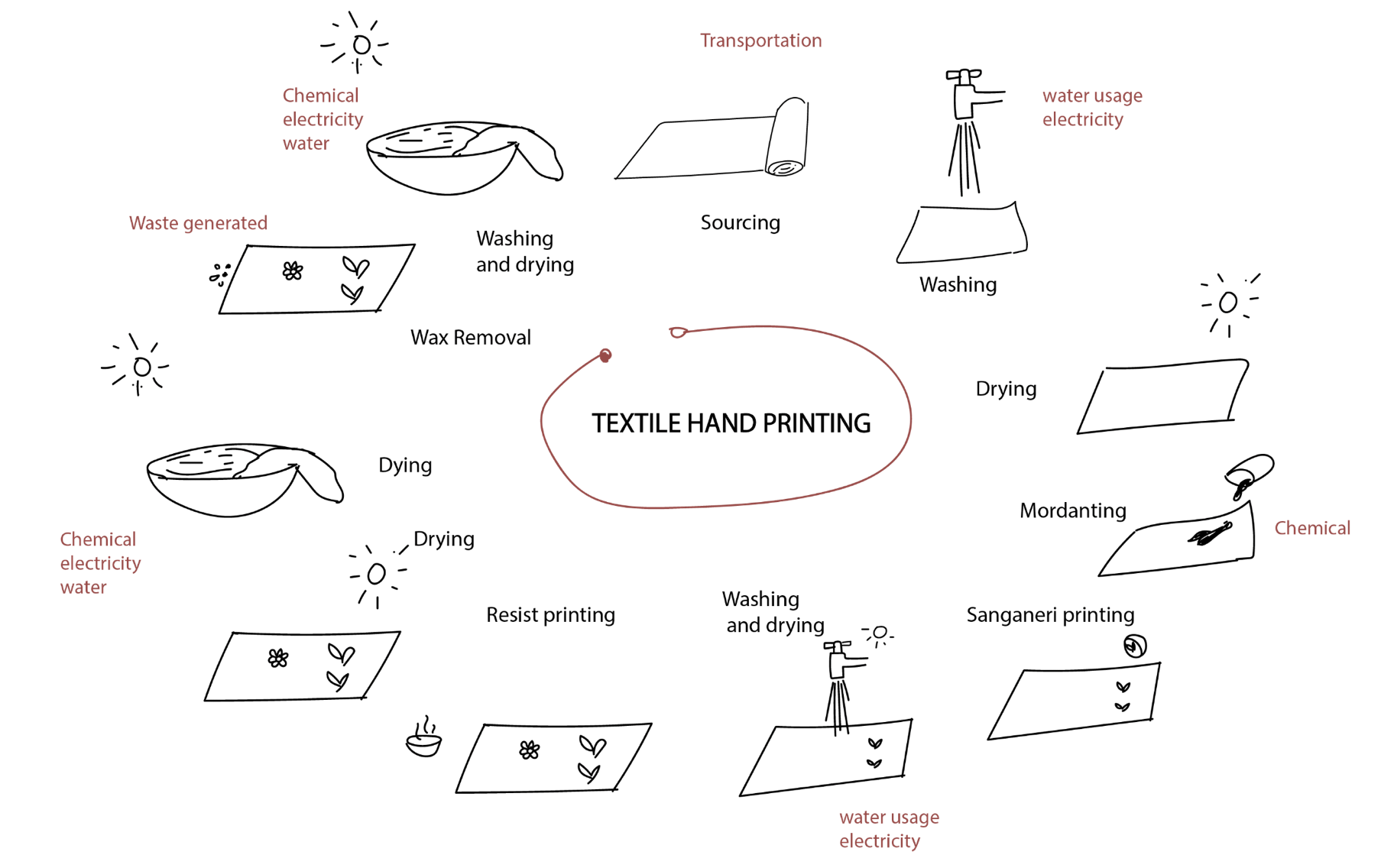 You perhaps know this particular craft from art lessons in school, dipping wooden blocks into paint and then transferring it onto cloth. It is safe to say that this was most probably influenced by the block printing technique in India and other countries in SoutEast Asia.
In more detail, hand printing is a craft in which a cloth is dyed with either hand or various different shapes. There are also different types of hand printing which are fashioned in India such as block printing, badhani (tie dye), batik and Kalmakri (hand printing by pen). There are various regions in India that practice this craft such as: Hyderabad, Varanasi, Farrukhabad, Gujarat and Rajasthan.
The Wonderful World of Wood Crafts:
Wood Carving
An artistic practice where one shapes, carves and decorates wooden items into utilitarian and decorative pieces would best describe the craft of wooden carving. Practiced long before the age of the ancient stone sculptural age, wood crafting has been practiced in India for multiple generations. The different types of wood materials used for this craft are: Sheesam, Ebony, Sal, Oak and Teak.

Due to the lengthy process and complex nature of this particular craft, it is cherished among countries that produce it like India and others alike! Just small items take a week or so to make, meaning larger elaborate items take a number of months to complete from the start of the process to the end!
Just like the other crafts, wood carving has made its home in many regions of India such as: Manipur, Nagpur, Bhopal, Chennai, Mysore and Madurai. This is great as it means there are endless employment possibilities for people in these regions of India and it also means this particular craft can be taught to younger generations to pass on the artisans secrets when it comes to this popular craft.
Wood Inlay/ Marquetry:
Marquetry is the intricate process of adorning surfaces of wood pieces by the setting of material like ivory, bone (which is often traditionally used) or plastic, shell and even wood of different types onto these particular surfaces.
Products with wooden inlay details can include everyday items such as jewelry boxes, doors, serving plates, boxes, bowels, cigarette cases and animal figurines. Originating in Persia, this craft was soon brought to India in the 18th century where royal Indian landscapes, pictures of Gods and Goddesses, processions and scenes from the Mahabharata as well as Ramayana. This specific craft involves over 2000 artisans which span over regions such as: Uttar Pradesh, Punjab, Saharanpur, Mysore and Bengaluru.
Wood Lacquerware & turning: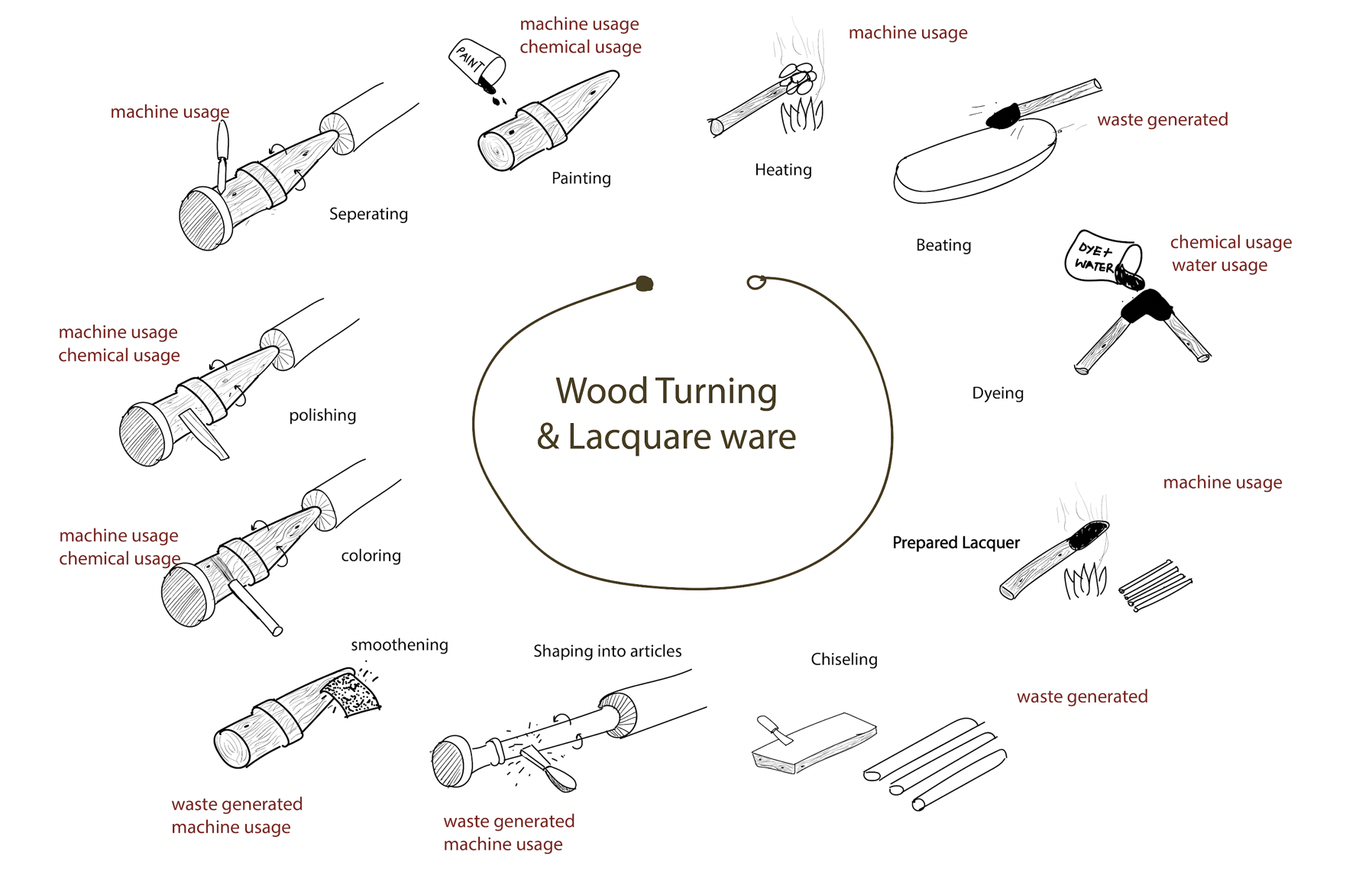 This particular wood craft is known for its smooth painted look. This is because the turned piece is coated with a coloured lacquer, it is clear that lacquerware is extremely popular as it has been widely diversified to fit the aesthetics people desire all over the world. For example, traditionally lacquerware would involve cones shaped products or cylinders and spheres, however with our ever changing market we now have lacquerware of jewellery, household items, decorative home pieces, pen holders, chess sets and paper weights.
L Lacquerware's home of origin is in Etikoppaka in Andhra Pradesh were there are roughly 165 artisans in their 'Mutually-aided Cooperative Society', there are however multiple other regions were this unique and ever adapting craft is made including: Sankheda, Varanasi, Ernakulam, Chennapatna, Medak and Davanagere.
General wooden furniture:
Making up 65% of India's furniture market, wooden furniture takes its place as the largest component of the Indian furniture market. Due to this, the craft of wooden furniture is able to be a great source of employment in India, employing 300,000 people across the country. As wooden furniture is a huge staple within India and across the world, the wooden furniture manufacturing activity spans the entirety of the country, some of these places include: Ahmedabad, Jalandhar in Punjab, Sikar in Rajasthan and jamanghar.
To learn more about these crafts click here for part 2!
Recommended
Business Management | Resources
The handmade market is a developing one that offers entrepreneurs special chances. This sector includes a wide range of goods, including artisanal foods and drinks, handcrafted jewelry, and home furnishings. Social networking and the growth of e-commerce platforms have made it simpler than ever for handcrafted company owners to expand their customer bases. This article will examine the development of the handmade sector, the benefits and difficulties of launching a business in the sector, the special prospects available there, and successful business tactics.