Market Insights | Resources
Top 10 Outsourcing Jewellery/Accessories from the IFJAS 2021 Online Fair
Sep 08, 2021 | Elda Sobreiro Bernardino
As the fashion industry evolves into the future, many brands have become global platforms for other small businesses to have their products shown and made available for purchase. The sourcing of designs has begun to gain attention because it allows smaller brands and independent designers to have global exposure by partnering up with such brands. The Indian Fashion Jewellery & Accessories 2021 (IFJAS 2021) Virtual Fair, which concluded on the 30th of July, has brought forward refreshing designs for the jewellery and the accessories industry. As we will be exploring throughout this post, many designs feature sustainable, ethical, and transparent companies that genuinely show the people behind the scenes.
Top 10 products from the IFJAS 2021 Online Fair
According to the trend forecast for the Spring-Summer 2022 (SS22) season, we will be seeing many small, diverse groups of consumers, each having a distinct style of their own.
As such, we have broken the top 10 products showcased in the IFJAS 2021 into groups of two that cater to the trend forecast.
Here are the top products:

Designing for the Casual Businesswoman
'Buying less, but better' ethos that will stand the test of time.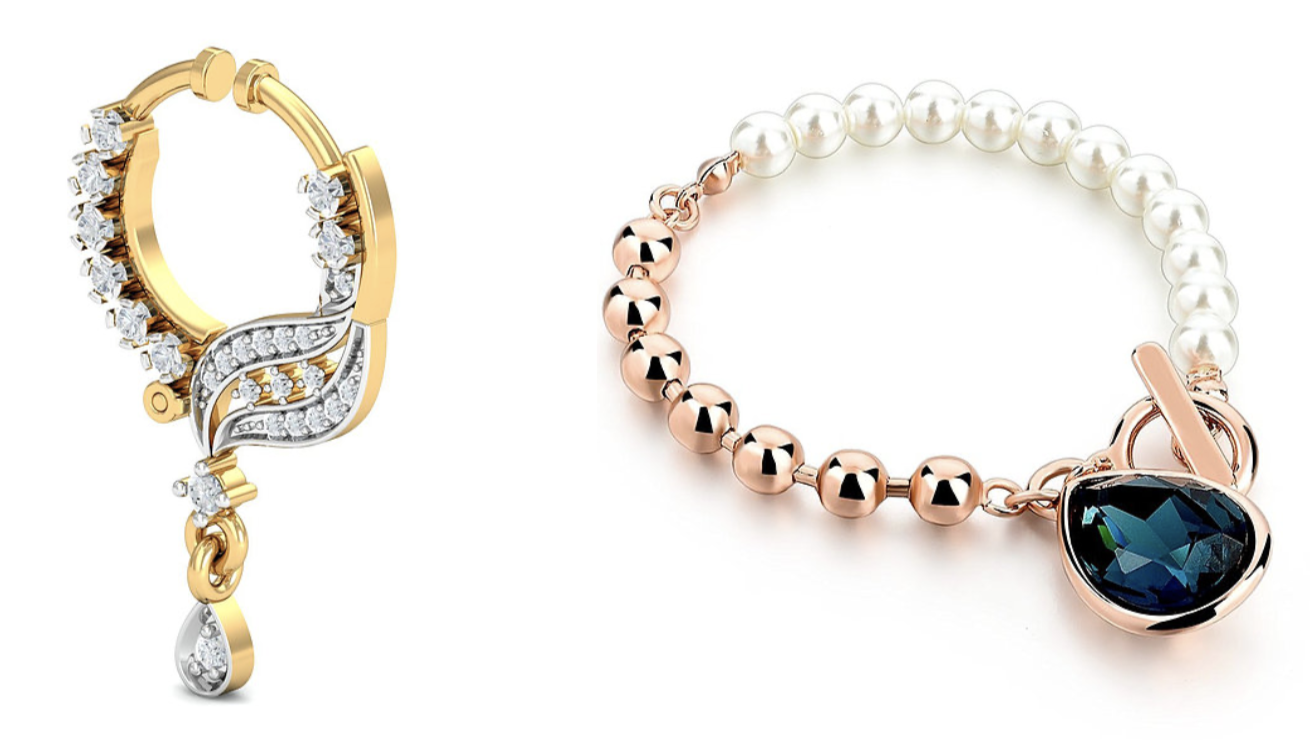 Bandish Exim is a manufacturing company that focuses mainly on metal and gold jewellery. When creating, their main focus is the finishing of products and the overall beauty of the finished product.
By using local resources, they have been able to help many in their community and steadily grow together. Relying on their team of craftsmen who carve each piece by hand to assure quality, those traditions and the culture of India are reflected in each finished product.
The two products displayed have been designed and manufactured by the company. On the left-hand side, there is a nose ring which has been made using gold and small diamonds, while on the right-hand side, there is a gold plated silver bracelet with a gemstone.
This company also caters to a wide range of products, including tribal jewellery made of copper, brass and terracotta!

A piece of Summer Comfort
Soft materials for padded and woven designs.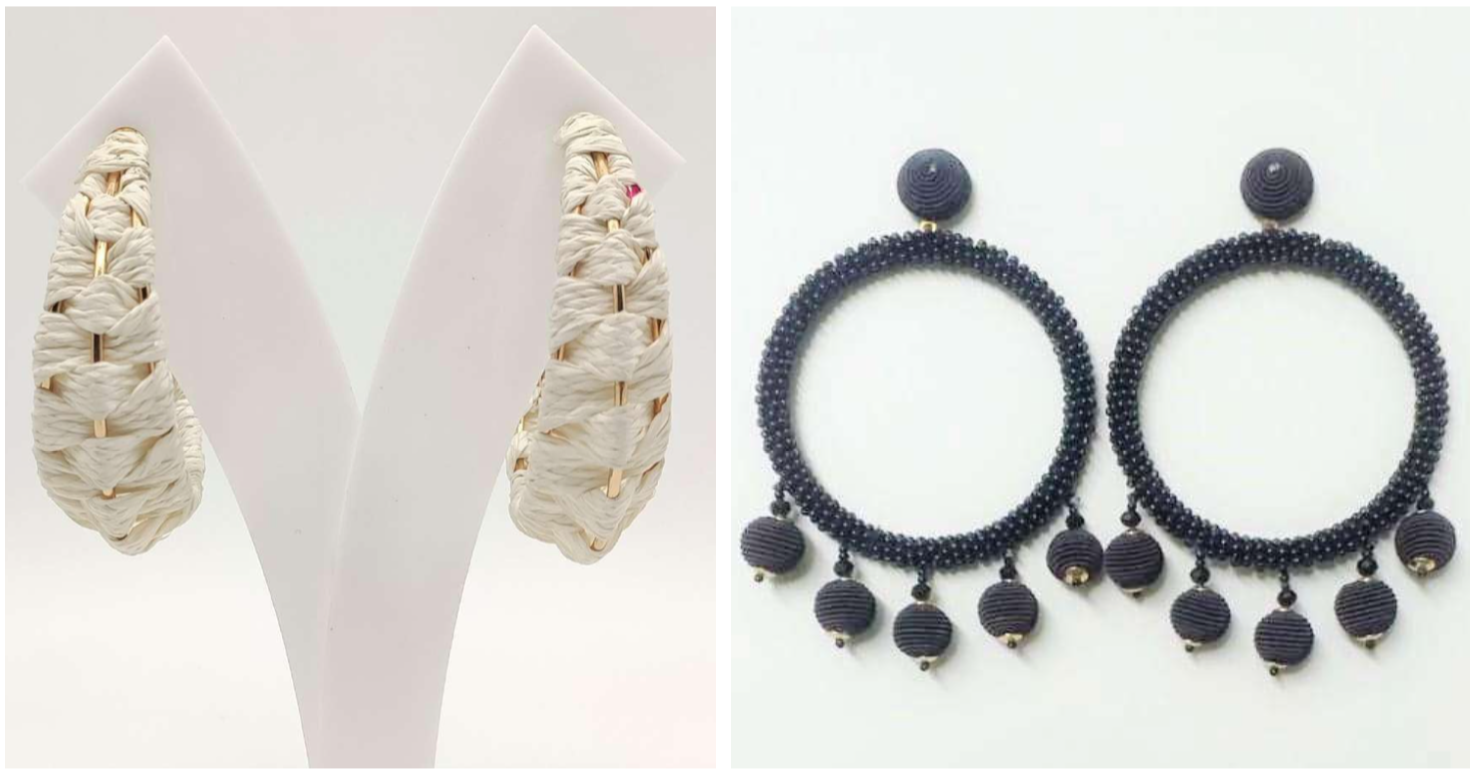 Here we have two products from Gaurav fashion, a company that focuses on simple designs made up of woven fabrics that give padded jewellery for any vacation destination.
The two ears displayed have a mixture of solid materials such as metals combined with softer fabrics that create an intricate design.

The timeless Raw Modernism
Textured metals mixed with raw materials.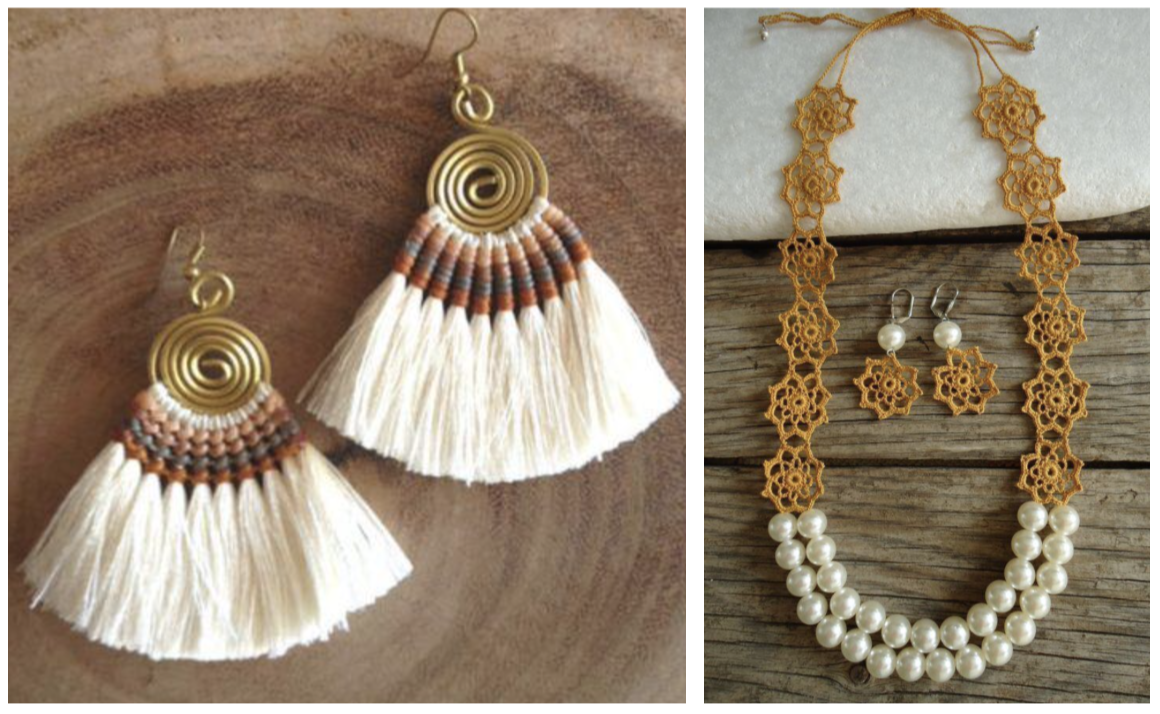 Alyth Creations takes pride in Indian Artisan handiwork and ensures that their authentic handcrafted products are correctly delivered.
The company uses various materials when creating their designs, such as wood, glass, resin and crochet, amongst others; while keeping in mind and using sustainable materials where possible when manufacturing products.

The two images seen above feature an example of the company's unique ways of designing their pieces, by joining the crochet element with soft pearls, creating the perfect mixture of handcrafted jewellery with the simplicity of the white pearls. On the other hand, the pair of earrings on the left-hand side features a soft spiral design, using metal and fusing it with crochet to bring forward a playful side to raw modernism!

Strolling into the garden
Plant-based materials and natural dyes will ensure sustainability goals.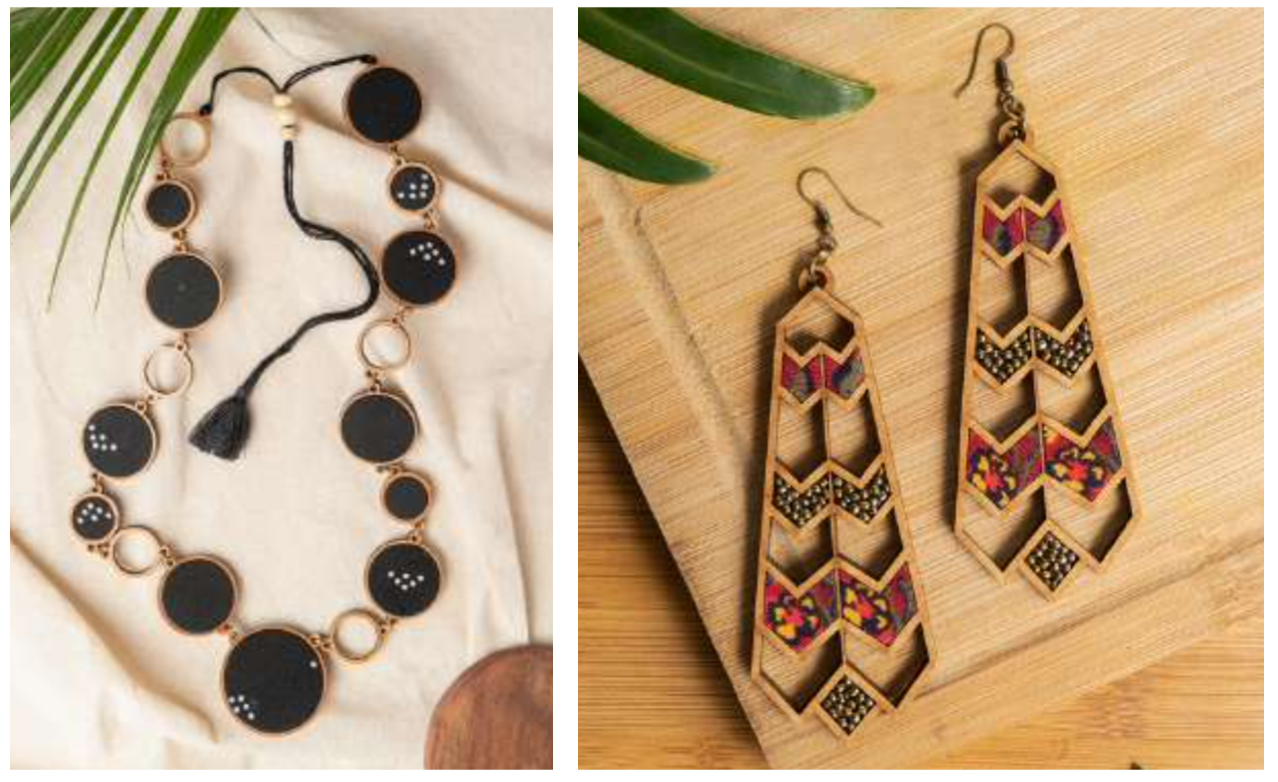 'A brand for women by women', has the most varied products when it comes to sustainable design and using natural products, and to upcycling.

The company has taken fabric from the fashion industry's cutting waste and mixed it with natural resources such as wood.
On the left-hand side, we can see a necklace designed by the company using repurposed fabric and wood with customization for shape, colour, size, and material.
While on the right-hand side there is a pair of earrings made of repurposed fabric and glass beads and a metal base.
The usage of Shore Things in your everyday
Natural materials including shells and organic pearls.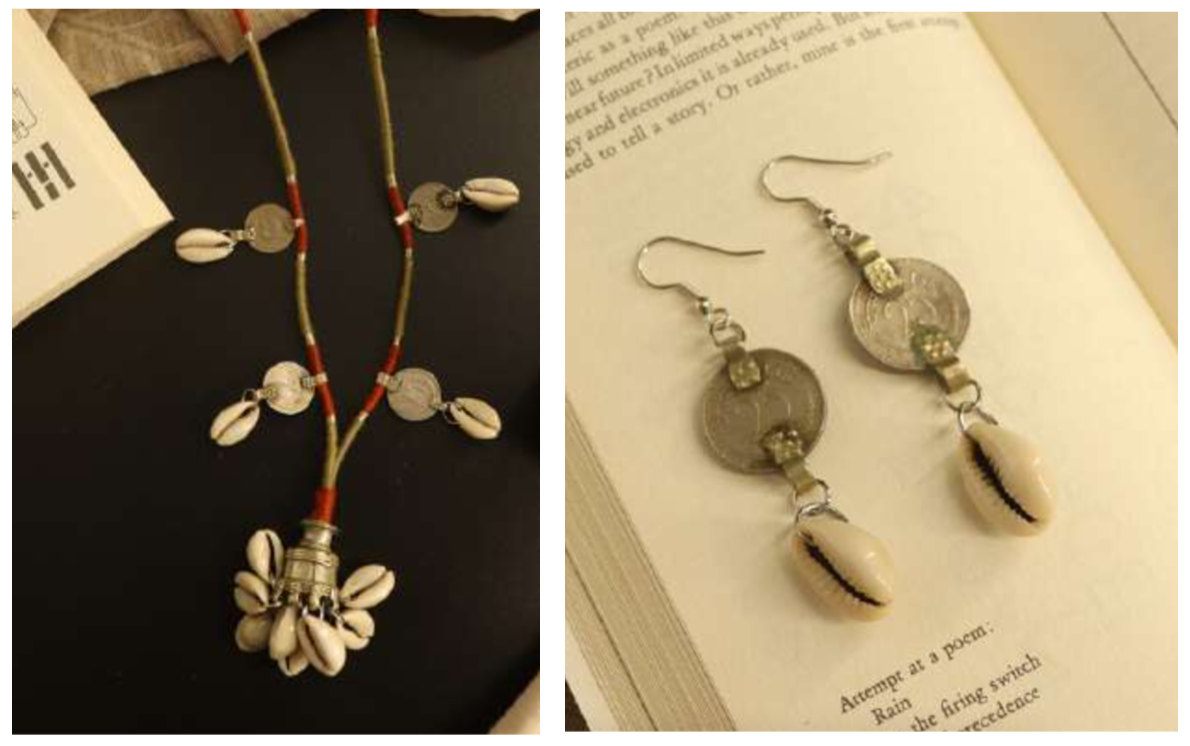 The 'Tribe Vibe' capsule collection made by Abira Jewellery features natural materials like Jute, which is a bast fibre that can be spun into threads for various functions. Implementing seashells, cowries, and Banjara coins adds a rustic feel to these pieces. This range includes necklaces, earrings and bag charms.
On the left hand side, a necklace can be seen made of thread, banjara jhumka, banjara coin and cowriel with customization available for colour, length and shells.
On the other side, we see a pair of simple and well crafted earrings which have been created with the usage of shells and banjara coins, cowrie and a base metal to hold everything in place.
Conclusion
Throughout this blog we saw the different usages of materials as well as both shapes and themes behind the top creations that were showcased in the Indian Fashion Jewellery & Accessories 2021 (IFJAS 2021) Virtual Fair.
To maintain a good jewellery selection for these up-and-coming trends drop by Rural Handmade Accessories to purchase our sustainable fashion pieces or if you would like to source your own unique designs, we also offer custom made accessories for business!

All you have to do is Contact Us here and someone from our team will get back to you!
Be sure to let us know your feedback and thoughts on this topic too!
Recommended
Business Management | Resources
The handmade market is a developing one that offers entrepreneurs special chances. This sector includes a wide range of goods, including artisanal foods and drinks, handcrafted jewelry, and home furnishings. Social networking and the growth of e-commerce platforms have made it simpler than ever for handcrafted company owners to expand their customer bases. This article will examine the development of the handmade sector, the benefits and difficulties of launching a business in the sector, the special prospects available there, and successful business tactics.